What are the Cloud-Based Video Surveillance Systems?
The popularity of video surveillance systems is growing rapidly. For instance, video surveillance installations have increased from 47 million in 2015 to 70 million in 2018 in the United States. It means there will be a surveillance camera for every four people in the country.
Video surveillance systems continuously record video, enabling IT and security professionals to monitor the movements of users and recognize improper behavior.
Today, many different types of cameras exist, including POE, dome, bullet, PTZ pan tilt, IP cameras and c-mount cameras. Depending on security requirements, enterprises can opt for any of these cameras with a varied range of features such as high-resolution, frame rate and color rate.
To meet their evolving security requirements, many enterprises are opting for cloud-based video surveillance systems that store the recorded data on the cloud securely and enable security administrators to manage the video surveillance of multiple sites from anywhere, any device, at any time.
This article explains the key features and benefits of a cloud-based security camera system.
Key Features of a Cloud-Based Security Camera System
To meet evolving security needs, enterprises may need to choose an advanced cloud-based security camera system that comes with a range of functionalities such as a video wall, anywhere accessibility, remote management, advanced video management, live video feeds, night vision and more.
Let's take a deeper look at the features you should look for while evaluating the cloud-based security camera system for your enterprise.
Video Wall
A video wall is a large visualization setup that displays high-quality live video feeds of security cameras installed at various locations within and around the building. The video wall is a vital component of cloud-based surveillance because it enables security professionals to capture and analyze real-time video feeds from multiple locations and make time-critical decisions.
Ability to Export and Share Clips
For the later review of security breaches, you may need to share the recorded video footage with forensic and cybersecurity teams. If your cloud-based security camera system cannot export and share video clips in the desired format, you may need to manually download video footage from DVR systems and put them on a USB or hard drive. For a large-scale setting with hundreds of wireless security cameras, this could waste the precious time of your security professionals. So it is better to choose a cloud-based security camera system with the ability to export and share clips at the click of a button.
Remotely Lock and Unlock Doors
The cloud-based security camera system will not only help you recognize inappropriate behaviors of people but also allow you to take appropriate actions to reduce or eliminate the impact of the threat. For instance, when you identify a hostile intruder or an active shooter entering the building, your surveillance system should allow you to quickly lock the doors of the building from a remote location. Likewise, you should be able to quickly unlock all doors of the building to provide free egress to all occupants when the security cameras detect fire and trigger an alarm.
Advanced Video Management System (VMS) Features
VMS is a vital aspect of the business security system because it carries out three basic functions of video surveillance, which include collecting video feeds from the sources, storing them in the storage space and providing an interface to view the live feeds and recorded video feeds. Furthermore, advanced VMS will also provide advanced features such as motion detection, distributed processing, facial recognition, audio-video recording, alarm integration and license plate detection.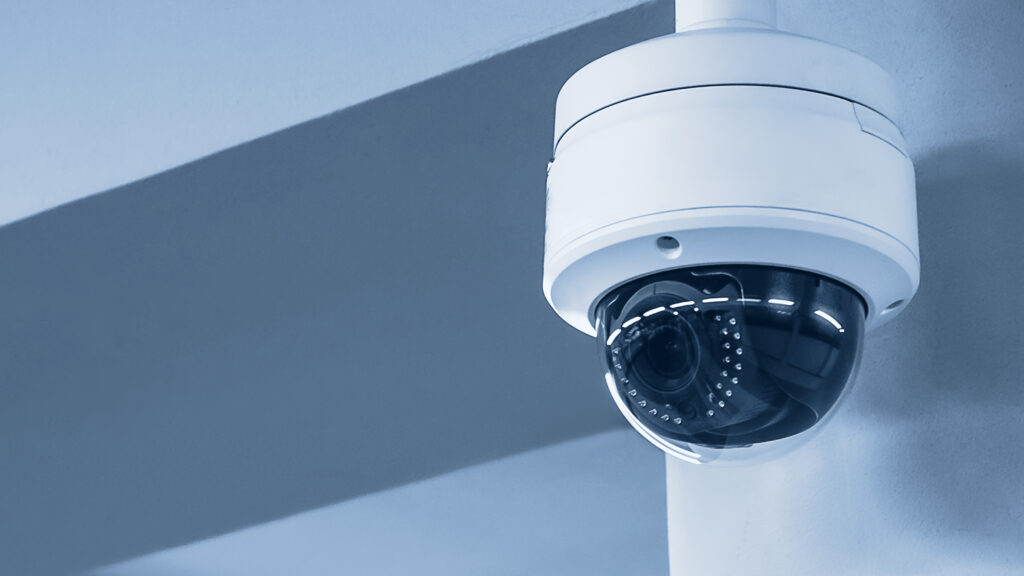 Benefits of a Cloud-Based Security Camera System
The cloud-based security camera system offers a wide range of benefits over on-premises video surveillance systems. The main benefits include:
Remote Access
The cloud-based security camera system allows security professionals to view live video feeds of all cameras on a centralized dashboard, which can be accessed via desktop, tablet or mobile device from any location. This remote access provides greater flexibility in monitoring buildings and making appropriate decisions.
Live Video Feed at Any Time
The cloud platform ensures that live video feeds are available on the cloud storage space even if you need them after a month or two.
With cloud video surveillance, you will no longer worry about incidents such as:
Live feeds getting deleted accidentally.
Old video clips being overwritten by video storage settings due to lack of storage capacity on local storage.
Allow Mapping Cameras to the Doors
The cloud-based security camera system will allow enterprises to map cloud cameras with doors.
Mapping enables security teams to:
Tag high-risk doors to ensure they always appear on the access control dashboard for 24×7 monitoring.
Receive notifications on occasions of forced door entries.
Establish the Validity of Access Logs
An access log is a log file that records users' access requests to specific doors, facilities, and resources at the workplace. The log contains information such as user ID, timestamp, type of access request, and type of resources requested. Access logs generated by a cloud-based access control system will establish a basis for identity during the process of catching the culprit.
But how do you verify the validity of access logs?
The only solution for this is the cloud-based security camera system. With video feeds, you can validate the access log and quickly catch intruders.
The cloud-based camera security system will help security professionals monitor access logs that result in:
Faster incident response
Quick resolution of issues before they affect users
How Video Management Systems Integrate with Access Control
You can integrate third-party video management systems with your cloud-based access control solutions with simple API tokens. For instance, if you are using Cisco Meraki VMS, you can obtain the API token from Meraki's dashboard and input it into the "API key" box on your access control management dashboard. This integration enables you to monitor both video surveillance and access control operations from a centralized interface.
Genea has Powerful VMS Integrations for Commercial Surveillance
A video monitoring system is a must-have for both large and small businesses that don't want to compromise on the physical access control of their buildings. Having a standalone video surveillance system may not be sufficient because it will not allow you to monitor access activities remotely, map doors with IP security cameras and generate real-time video feeds that trigger an alarm when an incident takes place.
This is why enterprises should choose to integrate their video management software with security solutions. An integration between cloud-based access control and video security systems will enable enterprises to monitor access activities remotely, tag inappropriate behaviors and respond to incidents quickly.
Genea's cloud-based access control facilitates integrations with a range of video management systems, including Rhombus Systems, Eagle Eye, Cisco Meraki and many more.
The main benefits of Genea integrations with VMS are:
Door mapping: Map security cameras with doors to view them on the access control dashboard.
Real-time video feeds: An alarm will trigger when an incident takes place.
Visual verification: Visually verifies users requesting access to high-risk facilities.
Post-incident investigations: The video feeds linked to each entry and exit point will help conduct post-event investigations thoroughly.
Book a demo to learn how Genea's powerful VMS integrations will optimize the security of your buildings.