A secure access control system requires more than installing electrified locks and card readers.
The proliferation of smartphone technology and increasing speeds of data communication over the previous decades should ring the proverbial alarm for companies still operating with outdated access control systems. Now is the time for a change.
For building management teams and enterprises, failing to invest in the versatile features provided through up-to-date, cloud-based access control systems means missing business opportunities – something successful companies cannot afford, especially in a struggling economy.
Tech-savvy prospects now actively seek features – like the ability to receive security alerts and monitor security video from a smartphone or conduct COVID-related health questionnaires to ensure a safe return to the workplace. Technology is streamlining workflow.
To skeptics, these features are frivolous. But for the same reason people wait hours in line for the latest smartphone or expect that automakers provide Bluetooth technology in their baseline vehicles, the scenarios signal a trend — people demand innovative solutions.
Changes to the work environment are now occurring quicker than ever before. As demonstrated with the COVID-19 shutdowns, abrupt change forced companies to adjust business procedures on the fly. Savvy leaders require flexible solutions and the capability to shift at a moment's notice. The question for building teams and their tenants then becomes: "How can we implement the most versatile and secure access control system?"
User-Friendly Access Control
Tenants come to the table with differing levels of technological skill. for some, a smartphone may be little more than a way to make a call, while others have more apps installed than their kids. No matter a user's skill level, a mobile interface should allow tenants to navigate clearly and easily.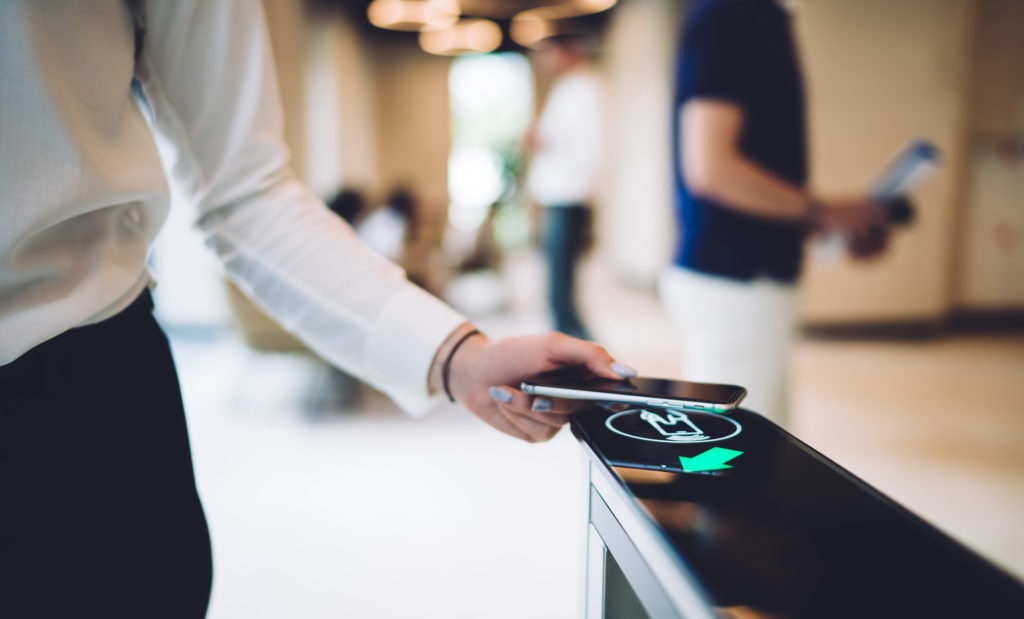 In a 2020 access control survey, 41% of office workers stated they used keycards to enter their workplace. Yet the same percentage of workers stated smartphones or smartwatches would be their preferred credential. Mobile access control provides a fluid method of credentialing, which increases overall tenant satisfaction, but a worthwhile system should also allow users the option of credentialing with keycards and key fobs.
For administrators, access control must gather entrance data and store it for rapid accessibility. Premier access control systems should grant companies role-based administration permissions, customized and assigned for each employee. Those tools should be easily accessible to administrators, allowing them to make instant decisions in case of a workplace termination.
Customizable Credentials
One of the main features of a secure access control system is the user's ability to assign different access credentials to different employees. For example, a senior executive at a software company may need access granted to multiple locations, the suite, multiple conference rooms, and the server room. However, a lower-level employee may need access to one room.
Gone are the days of employees spending their entire careers with one company; the workplace has changed. According to Careers.com, the average worker in the United States will change careers between five and seven times during their working life. Thirty percent of the workforce will change jobs every 12 months. The best cloud-based access control software gives administrators the freedom to seamlessly alter employee credentials.
When an employee leaves a company, the onus is on that company to collect the keycard and delete the credentials from the database. A huge security issue occurs when companies fail to inform building management of employee terminations, which results in the employee still attaining access to the building. But with Genea, dis-credentialing is done automatically.
Companies with multiple physical locations often require multiple keycards to access their buildings. A slipup only needs to occur once to breach security. Ditching the keycard for mobile-based access saves the time of rummaging through desk drawers looking for misplaced keys or carrying around a walled-worth of keycards on business trips.
A secure access control system that is cloud-based minimizes the risk of FOBs and keycards being stolen or used by an unauthorized person. If a mobile device with credentials is misplaced, administrators can quickly restrict the user's credentials and prevent further mishap.
Integration Capabilities & Alerts
Integration options boost efficiency but automating the provisioning and de-provisioning of user credentials. Genea's Access Control software easily integrates with identity management providers, like Okta, OneLogin and Active Directory.
Door propping, tailgating (the act of one credentialed person holding the door for an uncredentialled person), and poor visitor management are just a few problems with legacy access control systems. The implementation of a well-vetted, cloud-based system will eliminate such problems and ensure only the appropriate people enter designated areas.
Instant alerts are automatically sent to administrators with Genea Access Control. Our software easily integrates with video management systems like Cisco Meraki, Tyco, Eagle Eye Networks, and others. Should Sally Ann prop open a door to the filing room for a time customized by the administrator, the system will trigger an alert and send a live video feed to the cellphone or tablet of an administrator.
Advanced Encryption
Not all cloud-based access control is created equally when it comes to security. Genea encrypts all transmitting data using transport layer security(TLS) to keep sensitive information locked. TLS is a widely adopted security protocol giving users the utmost privacy and data security.
The most recent version of TLS 1.3 was published in 2018 and evolved from a previous protocol known as Secure Sockets Layer (SLL). People unfamiliar with TLS may be surprised to know they probably use it daily. Any website with "HTTPS" in its name uses TLS as an added layer of security — online banking and marketplaces are a couple of institutions implementing the added security.
Genea's Access Control software encrypts all data using TLS, locking all sensitive information away. With features like Safe Workplace, users have the option of collecting the answers to health questionnaires used to screen employees before they enter the office. If the administrator elects not to save the answers, then the questionnaire simple sends the results.
Hardware Matters, Too
Building teams and tenants often delay upgrading their access control systems due to the potential cost of replacing hardware. Luckily, not all access control software requires ripping and replacing costly hardware. Genea's software functions on most existing hardware already installed, giving customers the ultimate in software flexibility. Should the software fail to meet customer expectations, switching to another software company is inexpensive and simple.
Some leading access control companies using proprietary hardware tout their software features but downplay the cost of their proprietary hardware, with some estimates of door readers and controllers ranging from $80 to $3,500 per door. Add the price of hardware accessories like motion sensors to the equation and upgrading becomes even more costly. Using non-proprietary hardware helps minimize expenses and allows flexibility should the customer choose to work with another software vendor.
Many companies already using legacy hardware should seek a cloud-based access control system that does just that. Those serious about upgrading their access control without ripping out and replacing expensive hardware should look for software that works with non-proprietary hardware to eliminate costs.
If you are looking for a cloud-based access control system designed to work with your existing hardware, schedule a demo to learn how Genea can help.