An outdated access control system for the buildings you own or manage puts the security of those entering your facilities at risk. Also, you're losing time and money.
A cloud-based access control system is the best way to grant access to those entering your facilities. It saves time plus it provides peace of mind knowing that you have control, even when you are not near the building.
How Access Control Benefits Your Business
If you manage a business, then you likely have personnel to manage. So, make sure your employees and clients receive access to your facility.
With on-premise access control, the process of granting and revoking access for employees is time-consuming. It requires a lot of manual work, such as physically printing credentials into cards, manually distributing them, and updating records when someone leaves or joins the company.
It's a time-consuming and costly process. But, you can mitigate this problem with a cloud-based access control system.
Top 3 Benefits of a Cloud Access Control System
A cloud-based access control system is an online platform that allows you to manage access cards and other credentials. Rather than needing to print, distribute, and update access cards, a cloud-based access control system lets you assign and revoke credentials on the fly.
It's a modern solution to a problem that's been plaguing businesses for years. However, there are more benefits to this system than changing credentials quickly.
1. Ease of Use
The benefits are numerous for this type of modern system. For one, it's easy to use. If an employee leaves the company, the administrator can immediately revoke their access rights. Just as easily, if a new employee joins the company, administrators can add them to your access control system.
The cloud access control system also makes assigning credentials more efficient. Do this from a simple platform that you can control from any location.
2. More Secure
Access control in a cloud-based system is also secure. Access credentials get stored in an off-site server. Further, encryption ensures that only authorized personnel gain entry. Additionally, administrators grant access to the building using technology that prioritizes top-notch security. This technology ultimately means that hackers cannot easily access the system.
3. Improves Profitability
Another benefit to a cloud-based system is cost-effectiveness. Rather than purchasing and maintaining access control hardware, you can easily subscribe to a cloud-based system. It's more secure, easier to manage and saves money.
Facts About Cloud-Based Access Control Systems
Business management isn't the only concern for those considering a cloud-based system. Those who own or manage residential buildings also need to find ways to secure their facilities.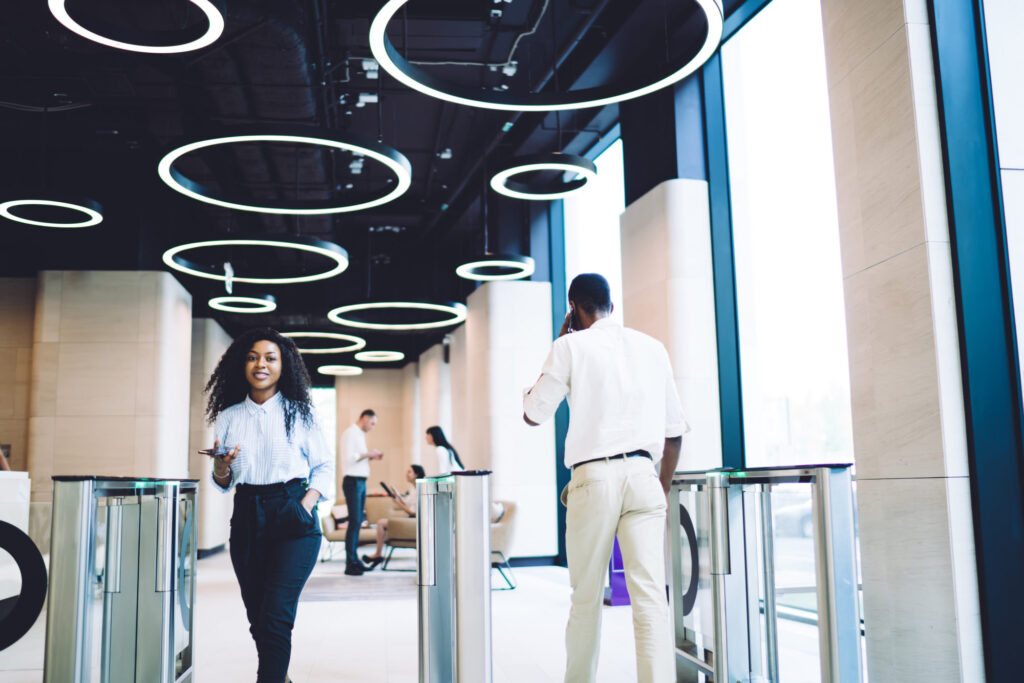 Here are a few features Genea recommends including in your cloud access controls to fortify the safety and security of those working in the buildings you own or manage:
Access control dashboard: From the cloud-based access control dashboard, administrators manage credentials, assign mobile keys and monitor activity remotely.
Visitor management: Another "hands-free" feature is emerging on the market. Cloud access software may allow for a touchless visitor management integration which allows visitors to enter the building touch-free. All visits are logged and monitored by the system to maintain security.
Mobile access: Mobile-based access control provides additional ways to manage your buildings, allowing visitors to use a mobile device to unlock doors with a tap or gesture. It eliminates the need for key cards or fobs that are not secure if in the wrong hands.
Access control hardware: Cloud-based access control software works without the need for proprietary hardware readers. The system eliminates the cost of expensive hardware installation and long-term software commitments.
Save Time and Money for Property Management
Making the switch to a cloud-based access control system doesn't have to be costly or time-consuming. You can start fresh, or integrate with your current system – as cloud-based access software can often be easily added to existing hardware.
At Genea, we offer cloud-based access solutions that you can rely on – not only because of the additional security that it offers, but also because it eliminates costs in other areas and saves you precious time.