This is the third and final part of our three-piece series Leveraging Tenant Empowerment Technology, covering how Genea was able to help many clients make quantifiable cost and energy savings at their building during periods of lower tenant occupancy due to stay-at-home orders with our Overtime HVAC software.
Maximizing Savings: As might be expected, these same buildings also experienced savings in energy expenses. But how much? And how did their savings compare to other, similar buildings? After all, as noted already, property managers tend to be in tune with what is happening at their buildings. They would be expected to conserve energy by shutting off HVAC service to empty floors. Moreover, they would make sure tenants with employees at their buildings would have service, albeit that it might require manual effort.
Genea's extensive client portfolio offers the chance to test this scenario against the on-demand case. While many client buildings moved to the on-demand HVAC model by April 2020, many others did not. Thus it is possible to compare several like buildings to determine which model has generated more savings thus far.
The Findings: As summarized in Figure 2 below, it was confirmed that although savvy property managers realized savings in energy costs regardless of the HVAC model, those savings were greater at buildings that shifted on-demand.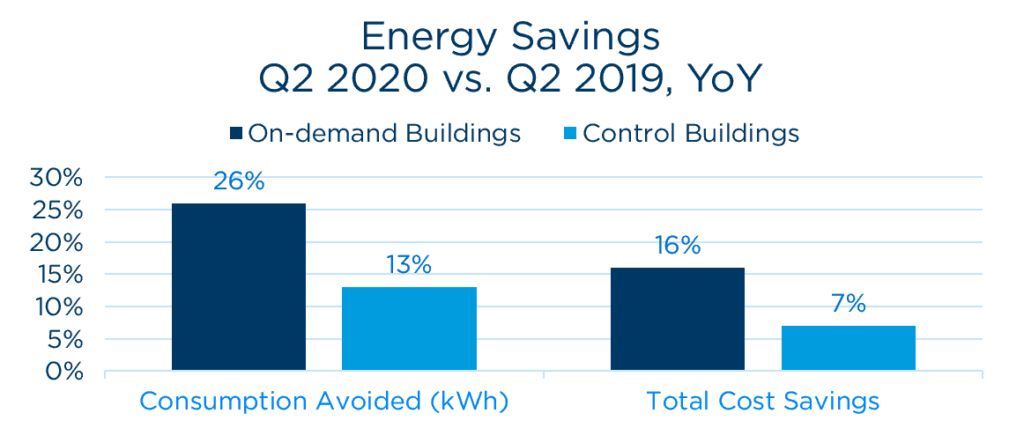 The analysis in Figure 2 shows the average year-over-year energy savings from Q2 2020 vs. Q2 2019 for a group of 5 "on-demand" client buildings, compared to 6 similar control buildings that did not move to the on-demand model. Savings are presented in both terms of consumption (kWh) and cost. As the chart shows, on-demand buildings saw roughly double the savings when compared to control buildings.
The buildings selected for this analysis are all located in one of three warm-weather markets: Atlanta, Houston or Southern California. In these markets, it is typical for commercial buildings to require air conditioning throughout the spring months. The properties in the control group were selected to mirror the size and composition of the on-demand group as closely as possible, given available data within Genea's client portfolio. (See figure 3 below.)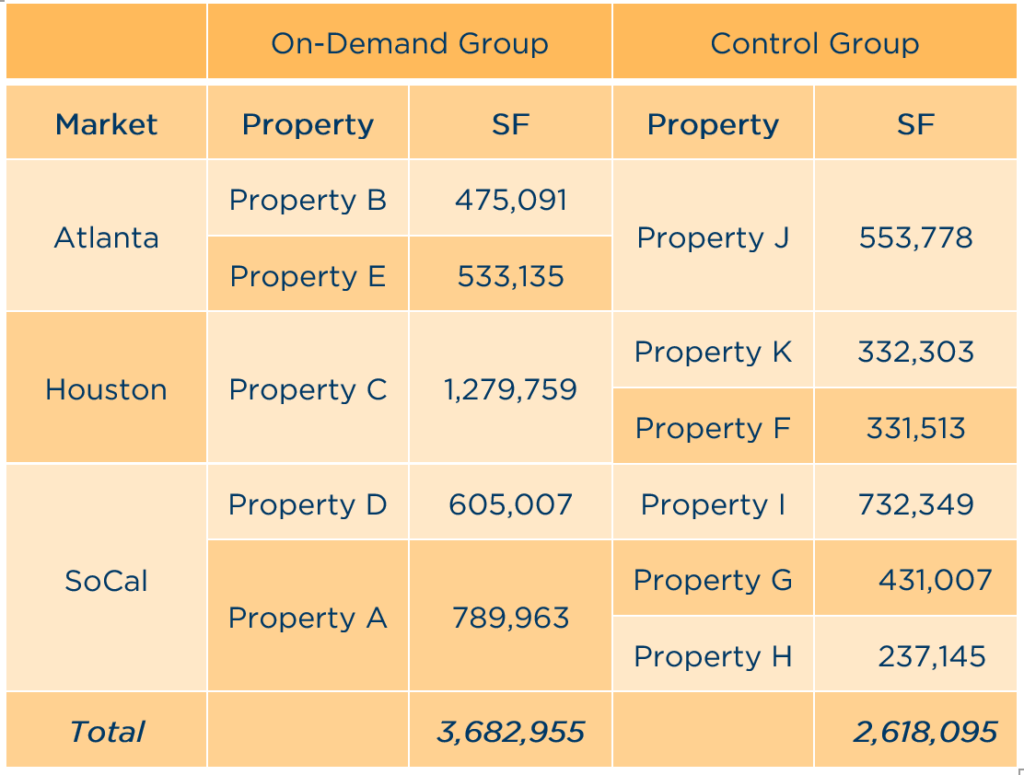 A closer look reveals the nuance in the story. Of the 5 on-demand buildings, 4 of them reduced consumption more than any of the control buildings. But two of the control buildings achieved consumption reductions around 20 percent, placing them close to the on-demand group. Further, one of the on-demand buildings actually experienced an increase in energy costs due to rate increases from the local utility provider.
Still, as visible in Figure 4 below, the general pattern holds: Buildings that converted to an on-demand HVAC model generally saved more than those that did not. And they did so while giving tenants a user-friendly, self-service way to manage their own physical occupancy, all while avoiding the manual staff effort that would typically be required to enable HVAC requests. The only requirement was a minor change in BMS configuration.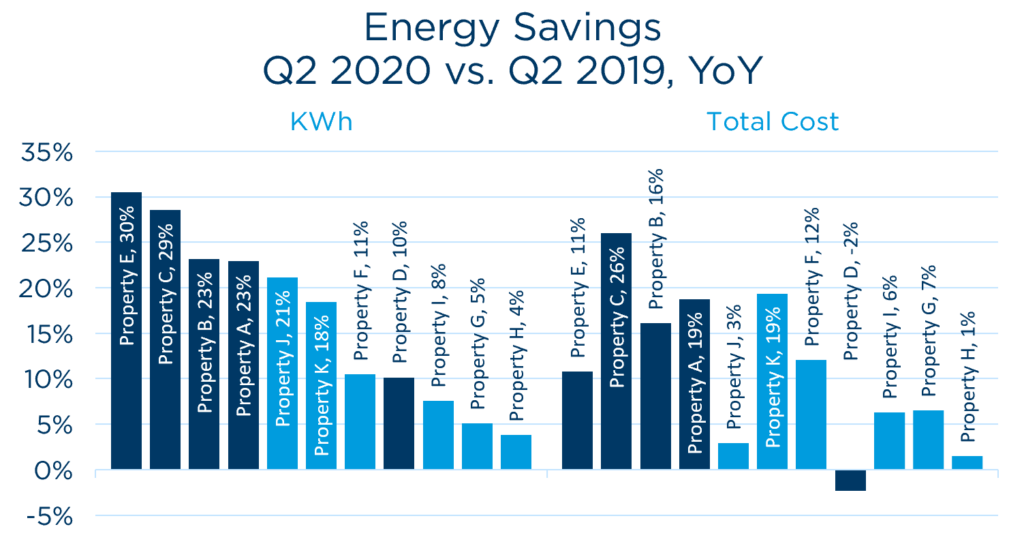 Where Next?
Given that the commercial real estate industry expects such an extended period of low physical occupancy, there is ample opportunity for buildings to employ an on-demand HVAC model to optimize tenant service and energy savings. While most building operators have managed some energy savings, on-demand HVAC is a tremendously efficient way to maximize these savings while minimizing effort for both tenants and staff.
Building access control and management will only increase in relevance during this period as well. As tenant occupants slowly return, it will be more and more important to understand their patterns of occupancy. Observing these patterns will help building managers in ways beyond HVAC usage. For example, they can adjust their operating plans to account for things like consumable paper products and in-building security.
There many also be applications for building health and wellness. More than ever there are now stronger reasons for controlling access to a broader range of commercial buildings. Managers will want to minimize their liability by limiting density and restricting access to occupants or visitors showing signs of illness. Many will want to offer touch-free building entry while still maintaining security. Some (particularly occupiers and their facility managers) many even explore contact tracing through access control data.
Longer term, there are likely to be permanent changes in the way commercial buildings are used. If occupiers want lower density or fewer hours, that will put pressure on existing lease structures and expense reconciliation processes to account properly for the buildings value to tenants. The more data buildings have on utilization, the better positioned they will be when these discussions arise.
As the industry settles in for a long recovery, there will be tremendous opportunity for innovation. But this does not necessarily mean a big investment in a confusing, unproven solution. On the contrary, simple, flexible solutions like Genea's Access Control Portal and On-Demand HVAC tools give commercial real estate managers more leverage to find the right unique approach for their buildings.
What can we do for you?
With property management teams getting more and more on their plates every quarter, technology that can both eliminate manual tasks while bringing quantifiable value to the building's bottom line can make a significant difference. We'd love to discuss your building to see if our software can drive value for your team.
Download a copy of the case study to learn how Genea's cloud-based platform can help your building maximize energy and cost savings while minimizing manual processes.