This is the second part of our three-piece series Leveraging Tenant Empowerment Technology, covering how Genea was able to help many clients make quantifiable cost and energy savings at their building during periods of lower tenant occupancy due to stay-at-home orders with our Overtime HVAC software.
Giving Tenants More Control: Tenants have always needed exceptions to standard building operating hours, whether that means getting an early-morning start on an all-hands meeting or hosting an in-suite special event in the evening or on a weekend. Since its inception, Genea's automated Overtime HVAC solution has made this easier for tenants and building staff alike.
Rather than embarking on a multi-step process to request that property management manually enable unscheduled heating or cooling, it provides authorized tenants with a simple, intuitive way to submit after-hours HVAC and lighting requests directly from their smartphones. Genea's integrations with BMS and billing systems mean that both the execution and accounting for these requests are enabled accurately and automatically. In most cases, management does not even need to be onsite.
In the past, some Genea clients have taken this a step further. They eliminated regular HVAC hours on Saturdays and certain holidays, making them days on which tenants could get HVAC service on an as-needed basis. As lockdowns began, many of these clients realized that, at least in the short term, they could convert the entire tenant HVAC schedule to the on-demand model, thus reducing HVAC system operating time and expense.
In practice, most of these clients have run an abbreviated schedule (say, from 4:00-6:00 am) to circulate air, followed by an on-demand schedule for some or all of the tenant occupied floors. And of course a minimum load is always required for chillers and central plants, not to mention lobbies. But otherwise, with just a few changes in the BMS configuration, Genea's Overtime HVAC product has become an "on-demand" product.
The results have been dramatic, if predictable. During Q2 of 2020, a sample of 5 client buildings in Genea's portfolio saw tenants request on-demand HVAC for only 26 percent of what had been normal operating-floor hours. (See Figure 1 below.)
Despite running at much lower capacity, every tenant got exactly as much climate-controlled air as required, all without manual effort from the building staff.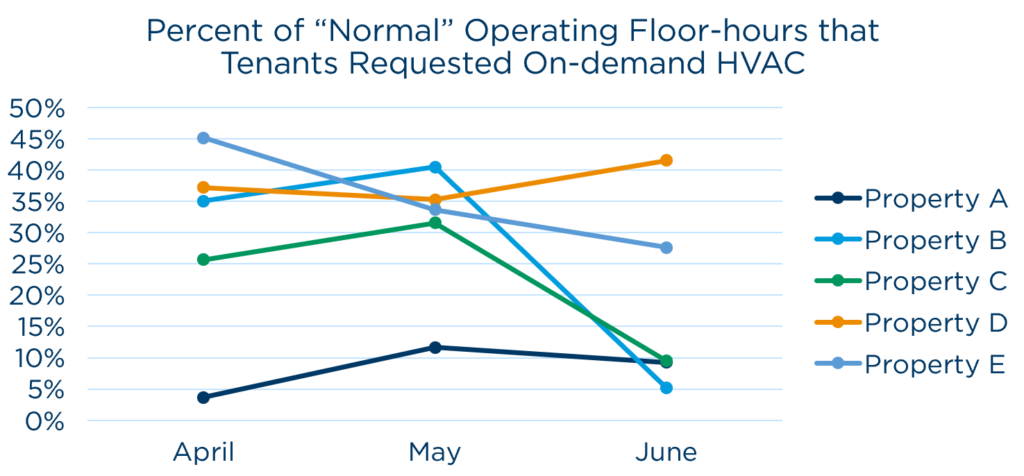 Stay tuned for the final part of this series "Maximizing Savings", which will provide more specific data of the savings experienced by Genea's customers.
Download a copy of the case study to learn how Genea's cloud-based platform can help your building maximize energy and cost savings while minimizing manual processes.