Everyone aims to avoid emergency situations, but the reality is that they can occur. If disaster were to strike, physical access to your property, and the safety of the occupants, would likely be at the forefront of your mind. The Genea admin web dashboard offers Emergency Lockdown and Hold Open features to help protect your office and/or building but what if your computer is not accessible?
Fortunately both of these features are available to administrators within the Genea app, allowing your to protect your users and property from your mobile device, anywhere in the world .
What is an Emergency Lockdown?
An Emergency Lockdown is a function that can be utilized to lockdown all access points at your property simultaneously. During an emergency lockdown, all doors will be inaccessible, and all active credentials will cease to grant access until the lockdown is lifted. You have the ability to opt certain doors out of the Emergency lockdown if necessary.
What is an Emergency Hold Open?
An Emergency Hold Open is a function that gives administrators the ability to unlock all access points at a building simultaneously. During an emergency hold open, free ingress and egress will be available to everyone and users will not need to scan valid credentials in order to gain access to any given door(s) or gate(s). Like an Emergency Lockdown, certain doors can be opted out of the Emergency Hold Open if need be.
One-Off Door Lockdowns and Hold Opens Capabilities: If desired, you may also lockdown or hold open one-off doors at your property. This feature can be especially useful if you're looking to prevent users from accessing only a specific area at your building, such as during construction or during a special meeting. It also proves to be useful if you are looking to grant access to everyone, such as when visitors are on-site or for a specific event.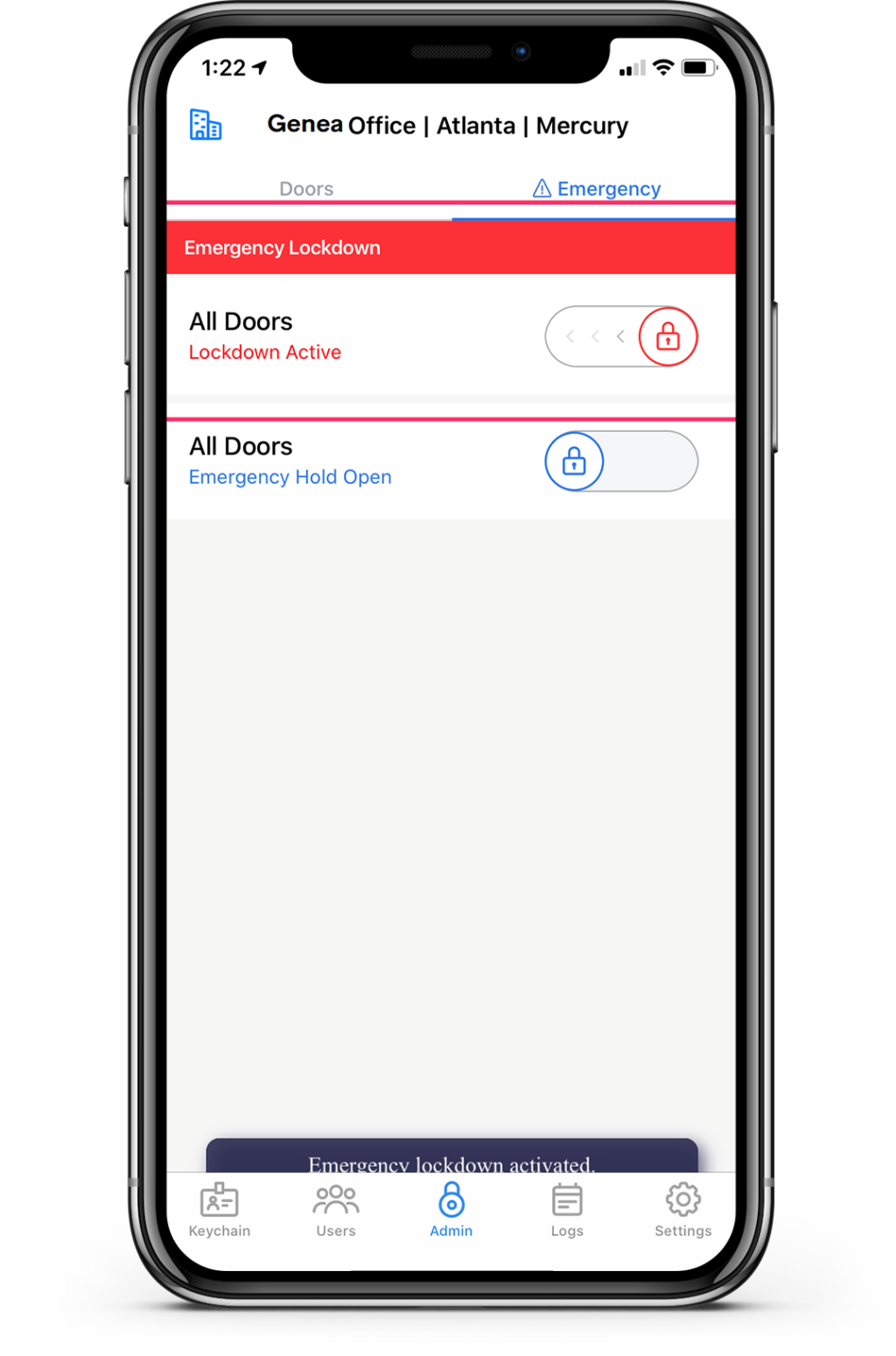 How to Perform an Emergency Lockdown Via the Genea App: While you can perform an emergency lockdown via the Genea admin web dashboard, chances are you might not be sitting by your computer during an emergency situation. For this reason, the Genea app is enabled for this function as well, meaning you can carry out an emergency lockdown from the palm of your hand from anywhere in the world.
Opt A Door Out of Lockdown: You may also opt any necessary doors out of the emergency lockdown. When a door is opted out, tenants will be able to gain access to the door with their credentials, just as long as the door is within their normal access permissions.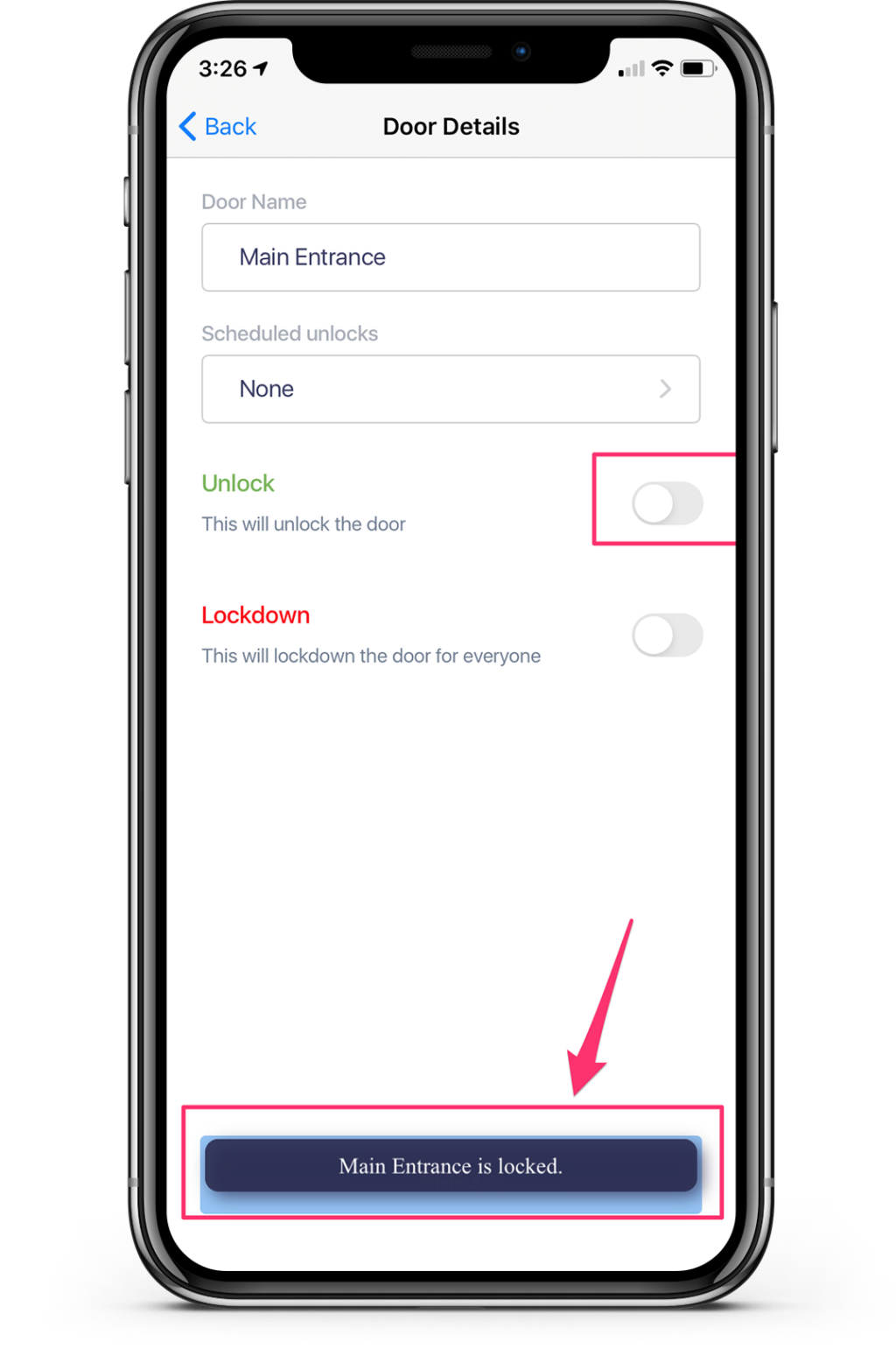 If there are any doors within your property that you would like to remain locked and secure during an emergency, just like a lock down, you may opt specific access points out of the Emergency Hold Open. When a door is opted out, the door will remain locked and only users with valid credentials will be able to access the space.
If you occasionally need to do the reverse and lockdown or hold open only certain doors at your property, you have the ability to do so directly from the Genea app as well.
If you have any additional questions regarding the Emergency Lockdown and Hold Open features, or are interested in learning how Genea can help safeguard your office with an all-in-one, cloud-based access control solution, schedule a demo below.