Last week at BOMA International in Salt Lake City, members of the Emerging Professionals Committee hosted a unique panel on how to attract and retain the next generation of talent in CRE and proptech. The panel was the brainchild of committee members, who had heard the topic of millennials and generation z in the workplace discussed, but rarely from the mouths of young professionals themselves.
The panel consisted of all emerging cre & proptech professionals, including Mason Bodie, Senior Property Manager with Stream Realty, Amanda Davis, Real Estate Manager with CBRE, Erin Dayanan, VP of Property Management with Pacific Property Group, Inc., and Theotto Lillard, Property Manager with Hubbell Realty Co. They represented diverse geographies, demographics, and experiences — bringing a variety of perspectives to the subject.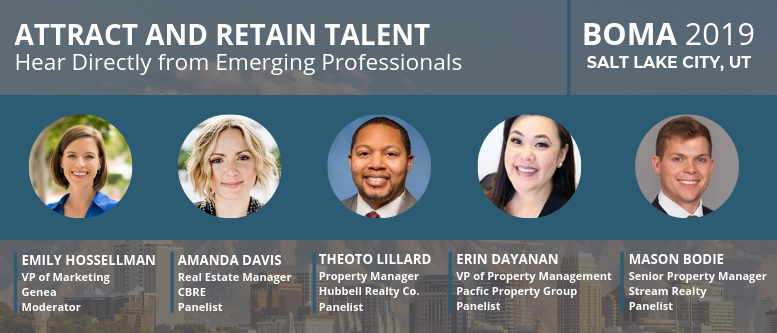 The standing-room-only crowd came to hear what the panelists had to stay, which underscored the importance of fostering the next generation of leadership in CRE. Here are a few takeaways from the panel and the discussions amongst the panelists as they prepared for the panel. You can also check out this great write-up about the panel from Buildings Magazine.
First, Context
Millennials are poised to become half of the workforce in 2020. They're also the least engaged generation in the workplace, with only 29 percent of millennials reporting being engaged at their jobs. Roughly 43 percent of millennials envision leaving their jobs within two years. With millions of baby boomers preparing to retire from the commercial real estate industry, this presents a tremendous issue for the industry.
Millennials have also (fairly or unfairly) been painted with a broad brush of being entitled, impatient, and needy. This has created frustration on all sides as the generations have sought to work together.
While companies in all industries have grappled with how to evolve their workplace culture and benefits to meet the needs of millennials, the next generation, generation z, has also been coming of age. Generation z is beginning to enter the workplace now, with their own (yet to be determined) impact on the workforce.
The panel aimed to give young cre & proptech professionals an opportunity to rise above the statistics and misconceptions about their generation in the workplace and give voice to members of this generation who are looking to have an impact on the industry.
Takeaway 1: Millennials Aren't as Young as You Think They Are
Most of the time when millennials are discussed, it's as the new kid in the office, fresh out of college. But the truth is that most millennials aren't recent college grads anymore. Cutoffs vary, but generally speaking millennials are between the ages of 23 and 38 right now — meaning older millennials in your office could have 15+ years of experience and very different priorities from young grads. This also means that millennials are actually a prime pool of management talent for your organization. Cultivating and retaining cre & proptech talent will mean the difference between success and failure of your organization in the coming years as baby boomers retire. If you're looking for a breakdown of the differences between millennials and generation z, this is a great article.
Takeway 2: Give Them a Seat at the Table to Show You What They Can Do
The panelists expressed the importance of senior leadership proactively giving young cre & proptech professionals a seat at the table, to both learn and show what they have to contribute. Young professionals are eager to get exposure to the higher levels of how organizations run, while also being given the opportunity to prove they're ready for additional responsibility.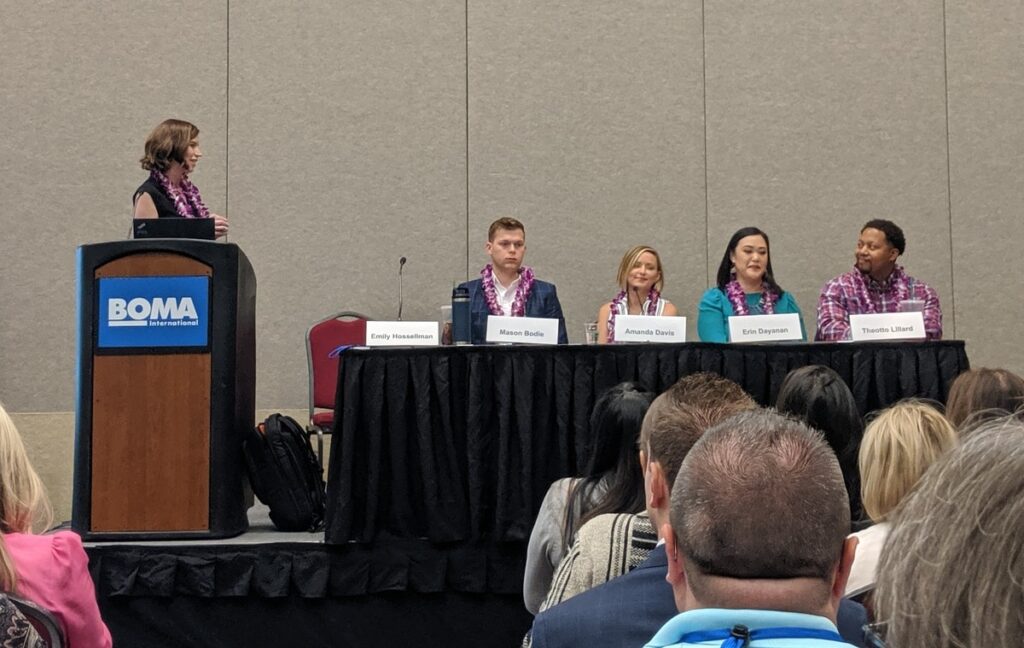 Takeaway 3: Pass Down Your Knowledge
Mentorship and learning came up throughout the panel. The panelists recognized that as senior leadership retires, there will be opportunities to move up in the organization and they want to be prepared. Since many boomers are delaying retirement, that means that there's still time to pass down key information about buildings and roles, but everyone involved needs to be invested in that transfer.
Currently many companies are delaying succession planning until absolutely necessary, which often means at the last second. The panelists encouraged senior leaders to start thinking about succession planning and taking proactive steps to make sure cre & proptech knowledge is passed down to younger members of the teams.
Takeaway 4: Show You Value Them
One theme running through the panel was how crucial it is to young cre & proptechprofessionals to feel like their contribution is valued. This can be through small, thoughtful gestures, with panelists sharing about comments from their supervisors and mentors that made a lasting impact on them. It can also be institutional decisions, such as investing in benefits, increasing flexibility, and instituting career planning for team members. Finally, this can be by actively encouraging them to grow their careers via certifications and active involvement in BOMA. These acts (both big and small) show the investment you want to make in fostering their careers.
Takeway 5: Talent is Talent, At Any Age
A huge takeaway from the panel was how talented, passionate, and thoughtful the panelists were. They're incredibly committed to the CRE & proptech industry and want to make the biggest impact they can in a career they care about. They're full of ideas, eager to learn, and want to be loyal to a company that's going to invest in them. There's no doubt that companies that recognize and harness that energy are going to be the companies that take full advantage of the changing dynamics of the industry and vault ahead. The bottom line is that both perspectives need to be considered. Ignoring concerns of the end-users (property management and building team) will result in overlooked details. But so too does every new addition to a building's tech stack need to be evaluated with solution longevity and ultimate value in mind. Various parts of the organization need to be connected and work together on making the decision.
This is only a taste of what was discussed at the panel. The hope was that the panel would initiate fruitful conversation in the industry about this crucial subject.
If you're interested in learning more about how Genea's Overtime HVAC, Submeter Billing and/or Access Control solutions can elevate the functionality and value of your property or portfolio, request a demo.