Our panel at BOMA International on creating asset value was full of valuable advice from some giants in the industry. Robert Cushman, SVP of Operations from Brookfield, Perry Schonfeld, COO of LBA Realty, and Brian Harnetiaux, VP of Asset Management at McCarthy Cook & Co., shared their advice on "Improving the Tenant Experience and Your Bottom Line at the Same Time" to a standing room only crowd on the final day of the conference.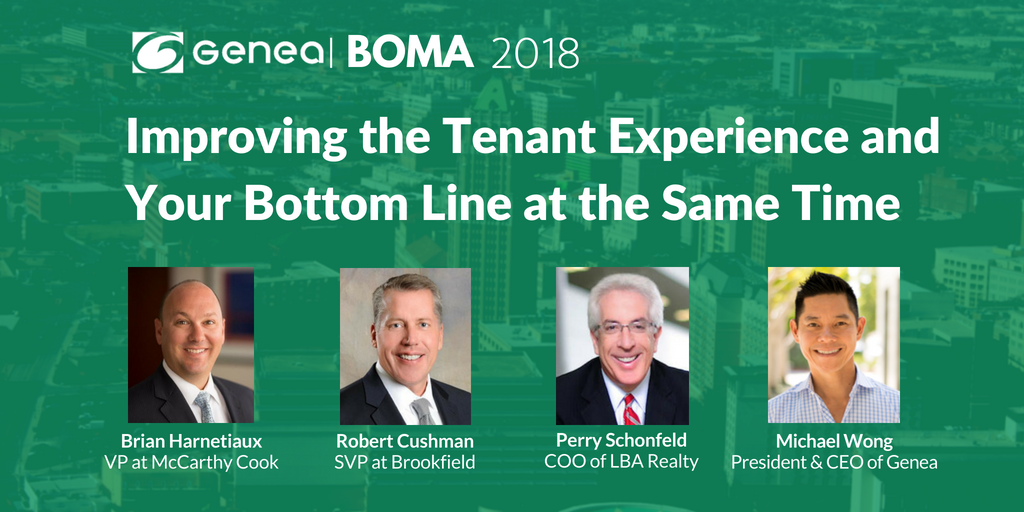 One theme that surfaced during the discussion was the importance of maximizing every part of your building. This world of increasing flexibility provides a unique opportunity to think differently about buildings. You can maximize space in creative new ways now that companies are growing more comfortable with (and even demanding) coworking spaces and communal amenities. You can start by opening your building up for event rentals or as a filming location. You can draw in crowds with popular food trucks or a farmer's market. You can attract customers to your retail spaces by placing a bike share stand nearby. If you aren't taking advantage of these opportunities, you could fall behind the wave of other properties that are embracing that mindset.
Another very significant part of maximizing your property means maximizing your property management team. Our panelists returned to this theme multiple times, providing valuable advice on how you can maximize your property team.
Hire Property Management Team Members with People-Potential
Brian Harnetiaux said, "technology is great, but the personal touch is still important… You can teach someone how to do CAM recs, but you can't teach them how to say 'no' nicely. There's an art to that." He shared how McCarthy Cook & Co. is changing their hiring practices, looking for candidates that show excellent people skills and an ability to have a customer service mindset. The panelists agreed that they're increasingly looking for people with hospitality backgrounds, rather than finance or business because it's more important than ever to have a customer-centric mindset in property management.
Task Them With Maximizing Your Amenities
The next part of the discussion focused on the importance of maximizing amenities within a building. Amenities aren't worth the investment if they aren't used by tenants, and the property management team plays a key role in encouraging engagement. Perry Schonfeld said, "Hire for EQ (emotional intelligence) and not just IQ. Without that energizing, tenant-facing person, your amenities can go south." A crucial part of maximizing your amenities is having the right people as the face of those activities and services, actively engaging with tenants and thinking of new ways to get them to take advantage of everything the building has to offer.
Empower Your Property Management Team
The next key point the panelists touched on was the importance of the property management team being customer-centric and finding great solutions for tenants. Robert Cushman emphasized the importance of property teams being driven by serving their tenants and finding creative ways to solve their problems. The key is to empower your team to deliver those solutions without the limitations of process or approvals. "If there's a solution they can execute on to help your tenant and that solution costs $500, that's the best $500 you can ever spend." said Harnetiaux.
Actively Develop Their Talent
Beyond hiring people with good customer service and people skills, the panelists agreed that you needed programs in place to actively develop those skills and talents. Harnetiaux shared that his team goes through an annual customer service academy with speakers from great brands like Disney and the Four Seasons to hone their ability to deliver great customer experiences.
Help Them Maximize Their Time
The final and potentially biggest piece of this puzzle is to give the team the time and "whitespace" to actually execute on these ideas and mindsets. "You want to get the property managers out from behind their desks," said Cushman. Schonfeld agreed, "If you want your team to have a higher level of consciousness, then you have to give them whitespace to do that."
The panelists suggested looking for every possible opportunity to remove rote tasks from property managers' plates — either by automation or outsourcing, to give them more bandwidth to do higher-level, tenant-facing tasks. They all agreed that it's unrealistic to continue to ask property teams to manage of the time-intensive tasks they're doing today, while also expecting them to embrace a concierge mentality with their tenant base.
This panel was full of so much great advice and powerful examples, it's impossible to fit it all into a single post. We hope these ideas give you a sense of how some of the leaders in the industry are approaching maximizing the talent in their teams.
If your company is looking to make your property teams more effective and adopt some of these practices, we can help. Our software automates the time-consuming processes around overtime HVAC requests, submeter management and access control. These simple automation tools have given hundreds of property teams more time in their day to focus on their tenants. We'd be happy to show you more with a personal demo.