BOMA International 2018 was a flurry of networking and learning alongside hundreds of other BOMA members from around the globe. CRE professionals shared their experiences, challenges, and ideas while trying to avoid the heat in sunny San Antonio.
Over the course of the event, we started hearing the same themes come up again and again as attendees swapped struggles and successes. Here are top four takeaways from BOMA International 2018.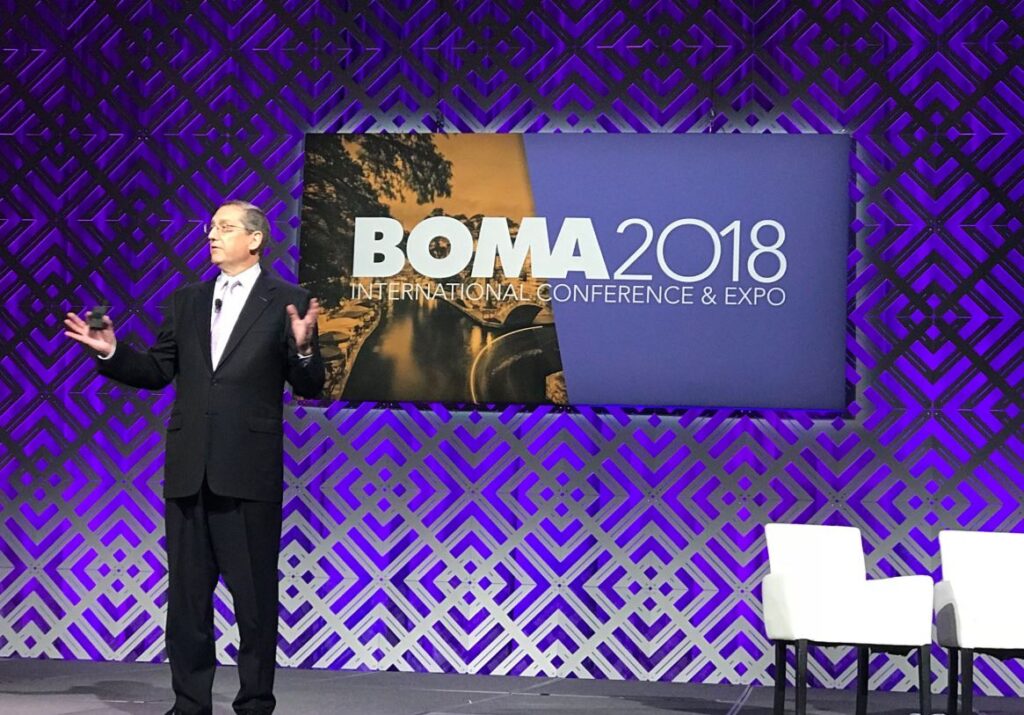 1. The Tenant Experience is on Everyone's Mind
We cannot count the number of times we heard someone use the phrase "the tenant experience". From amenities to building operations to technology, everyone is thinking about how to cultivate a great experience for their tenants. For some, it's eye-catching perks like mobile manicure trucks, scooter-sharing, and beautiful communal spaces. For others, it's delivering amazing service during every tenant interaction. And for others, it's about developing relationships with technology companies that are fundamentally changing the landscape. No matter how they approach it, it's clear that building operations are becoming more tenant-centric than ever.
2. Flexibility is the Name of the Game
While coworking and millennials are common topics at CRE events these days, at BOMA this year the focus was on their common thread — the demand for flexibility. Millennials are looking for flexibility in their work environments, both in the physical spaces and in the expectations of how they use them. Coworking is responding and expanding on this trend, creating these flexible spaces that change the way people and companies look at and commit to physical office space.
CRE companies are responding. While at first there was resistance to both of these trends in the industry, now companies are actively looking at how to capitalize on the movement towards flexibility. Perry Schonfeld, COO of LBA Realty, talked about the importance of maximizing every aspect of your building in this new dynamic. Brian Harnetiaux, SVP at McCarthy Cook, discussed how corporate tenants are using coworking models to meet the ever-shifting needs of their satellite offices. It was clear that the companies that can meet this need for flexibility will be ahead of the market.
3. CRE is Thinking About Talent Development
Another trend that came up throughout the event was the challenge of finding and cultivating talent within the industry. While previously the focus was largely on technical roles, I heard a new emerging theme about evolving skillsets for tenant-facing roles on the property team. Panelists discussed the importance of hiring people with high emotional intelligence and good soft skills. Multiple people, including Cathy Kuebler, VP of Billingsley Property Services, recommended hiring professionals with a background in hospitality to ensure that they knew how to handle frustrated customers.
Both the Women in CRE Breakfast and the Emerging Professionals programs highlighted how seriously the industry is taking talent development within its ranks — and the active participants in both of those sessions showed the appetite for more from the industry's up-and-coming leaders.
4. Technology is at a Tipping Point
The final major takeaway from BOMA 2018 also came from Perry Schonfeld and it is that technology is at a tipping point. Investment in CRE technology has exploded recently and the industry is finally starting to embrace it and figure out how to use it to create a competitive edge. Panelists and speakers shared their successes implementing technology and how they're prioritizing new investments. Everyone seemed to acknowledge the challenge of selecting effective technology partners while recognizing the crucial role technology will play in redefining the industry in the coming years.
Walking away from BOMA, we are more excited than ever about how the industry is evolving and look forward to seeing how these trends develop and discussing them at future industry events.
If you're interested in learning more about how Genea's Overtime HVAC, Submeter Billing and/or Access Control solutions can elevate the functionality and value of your property or portfolio, request a demo.