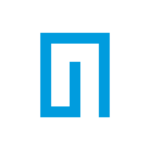 One of the biggest challenges for any property team is handling difficult tenants. At BOMA International 2018, Genea's CEO Michael Wong moderated a panel that focused on best practices for tenant management and the panelists had some great advice for property teams. Micah Larmie, SVP at Transwestern, Christy Means, M
Managing Director at Cushman & Wakefield, and Cathy Kuebler, VP at Billingsley shared their experiences and advice for cultivating great relationships with even the most demanding of tenants. 
The biggest theme to come out of the panel discussion was the importance of being proactive with your tenants. This allows you to get ahead of tenant relationships, so you aren't playing catch-up after a relationship has gotten off on the wrong foot. Here are a few ways you can ensure proactive tenant management to keep everyone happy and working well together.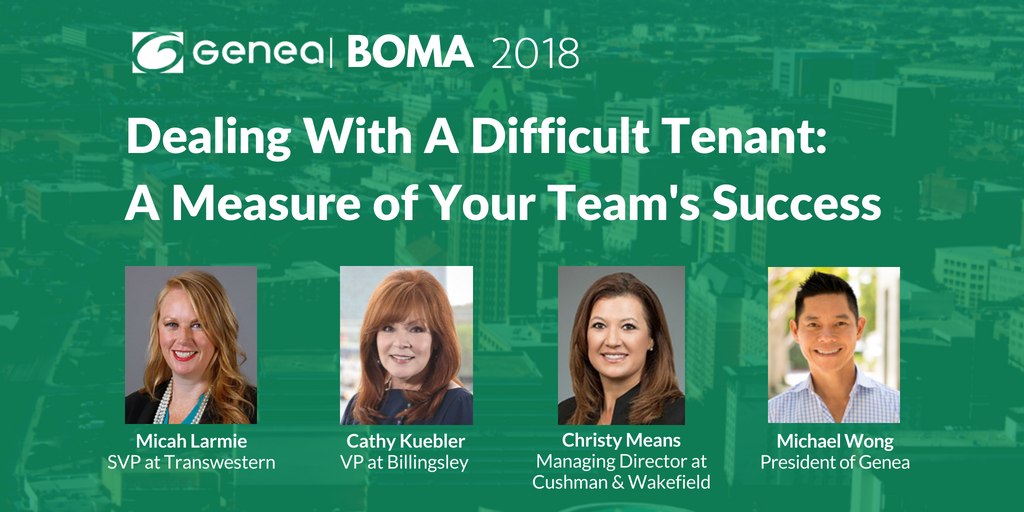 Be Part of the Leasing Process to Set Realistic Expectations
A key aspect of building a solid relationship with tenants is managing tenant expectations from the very beginning. The panelists shared that one of the biggest tenant management challenges is when brokers promise something to a tenant during the leasing process that's either unrealistic or doesn't make it into the lease. Then the property manager is put in the difficult situation of being the 'bad guy' on day one. Cathy Kuebler pointed out that "if your tenant has one thing they thought they were going to get and they don't get it, it turns them away from that partnership mentality. They're always waiting for the next disappointment or broken promise. "
Christy Means shared that in these scenarios "the two biggest factors are communication and expectations." She recommends getting involved in the leasing process early to ensure that tenant expectations are set appropriately from the very beginning. She asks brokers to cc her on all emails and involve her in meetings with potential tenants along the way.
If you do end up with a tenant with unrealistic expectations, both Means and Kuebler suggest taking a "liaison approach." This entails acting as a go-between to find a solution that makes the tenant happy while respecting the lease. It helps tenants feel like you're making an effort to work with them, instead of just telling them 'no.'
Consider Tenant Culture and Location
Another excellent way to be proactive is to consider how different tenants will impact each other within a building. If you have a tenant with concrete floors and a pinball machine, having them share a wall with a library-like law firm could set you up for frustrated tenants for years to come.
Cathy Kuebler shared how she handled this scenario in one of her buildings. They had a full-floor tenant with concrete floors, which were disturbing the tenants below them.
The property team took an "all hands on deck" approach to help solve the problem for everyone. They paid to have plastic covers put on the feet of the chairs in the office with concrete floors and invested in white-noise systems for both of the first-floor tenants. It was a relatively small investment to keep three significant tenants from fighting with each other and complaining to the property team.
Consider the Stress of Increasing Tenant Density
Another area to be proactive is in the day-to-day operations of the building. Micah Larmie brought up the fact that teams need to be thinking about how increasing tenant density impacts the services within a building. More tenants mean more stress on restrooms, elevators, and cleaning services. "It's something we're starting to think about and plan for as we look at tenants' space plans and see that they're going to put 400 bodies in a space that used to hold 220," she said.
One thing teams need to consider is who is going to bear the brunt of those additional costs. If one tenant chooses to have a high-density office and needs more janitorial supplies and restrooms to support that density, should that tenant bear the cost or should the whole tenant base absorb it? By planning ahead and setting the right expectations with tenants, property teams can get ahead of these types of issues.
Be Systematic About Tenant Outreach
With everything on property teams' plates these days, it's challenging to find time to take proactive tenant management measures. Cathy Kuebler explained how at her properties there's a schedule for visiting each tenant at least twice a year. For large tenants, the cadence can be as often as every few weeks. Her entire team also took part in training on active listening and phone etiquette to hone their communication skills with tenants to make the most of these casual check-ins.
After each visit, the team member takes detailed notes on what was discussed. "You don't want to go back and end up looking foolish for not getting something done," she said. The notes help to make sure tenant complaints are handled and remind property managers of talking points for future visits—even if it's just asking about a planned vacation the tenant is taking.
Put Yourself in Their Shoes
Finally, the panelists recommended getting out from behind your desk and putting yourself in the shoes of your tenants. Micah Larmie highlighted the important of managing complains in person. "Go up to the space, hear the noise, look at the cleaning. I want to see what they see that isn't getting done." This helps to make the tenant feel like they're being heard and gives property managers the best context to help solve the problem.
One of the biggest themes at BOMA International this year was the increasing importance of delivering a great tenant experience. Property teams are certainly feeling that pressure. By implementing some of these best practices, property teams can deliver that great tenant experience — even with the most difficult of tenants.
To see how Genea helps property teams improve the tenant experience at their buildings, request a demo!