The Importance of Choosing the Right Building Access Control
Having a robust access control system is essential for all types of buildings, including commercial real estate (CRE), hotels, educational institutions, hospitals and enterprises.
A building access control system is technology that ensures only authorized people have access to a facility.
Different types of security systems are available, including:
Traditional door lock and key systems
Keypad access control systems
Biometric systems (fingerprint, palm vein, and face recognition)
Video surveillance system
Not all these access control systems offer the same benefits. Security personnel must carefully evaluate the features of each access control system and choose the right one that caters to all the security needs of the building.
Choosing the right physical access control system helps:
Increase the convenience for employees and users
Make physical security administration easier with automated processes
Save time and money
Effectively handle pandemic situations like COVID-19
Eliminate security breaches
Comply with regulations and policies.
In this article, we'll dive deeper into the vital features of the perfect door entry system and evaluate the five best access control systems available.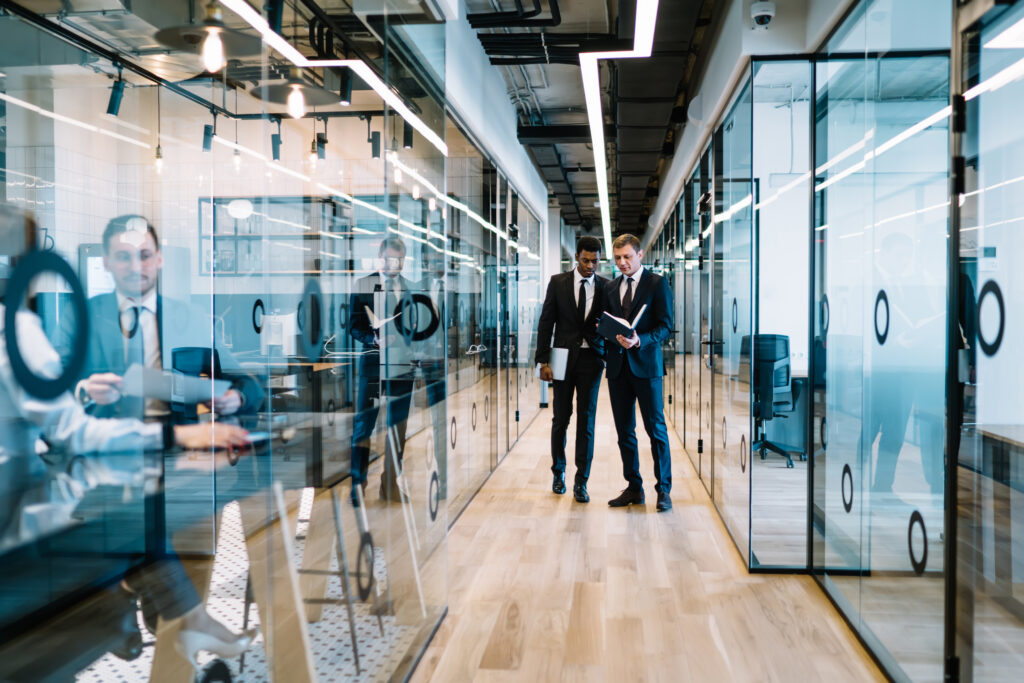 Keypad Access Control Systems are Antiquated
Keypad access control systems are outdated and less relevant to today's work settings for the following reasons:
Forgetting the code: Users need to remember their passcodes to gain access to the premises of the building. If they forget the passcode, they will again have to contact the administrator to generate new passcodes. The lag time in generating the new passcode can impact employee productivity negatively.
Vulnerable to hacks: The keypad access systems are vulnerable to hacks. Hackers can easily bypass the system and gain access to restricted rooms regardless of the complexity of a passcode.
Lack of hygiene: Keypad access systems require users to touch the keypad to enter the passcode. They can spread germs and make people vulnerable to infectious diseases.
Customizing the Perfect Door Entry System
The perfect door entry system should give equal priority to three principles: security, convenience and hygiene.
Security: It should restrict unauthorized people from accessing building premises.
Convenience: It should increase the convenience for users to access the building premises and admins to manage users or user credentials.
Hygiene: It should not spread viruses and germs that cause infectious diseases.
To meet the criteria of these three principles, a door entry system must have several features, including touchless access, mobile access, and cloud-based access control.
Mobile Access Control
Touchless access control often relies on mobile technology for a seamless way to enter rooms, building premises, and facilities.
The main benefits mobile access control include:
Touchless: Users can open doors just by twisting or tapping their mobile phones.
Cloud-based: Administrators can add or remove users and activate or deactivate the mobile credentials of users from a remote location.
Security: It enables administrators to use two-factor authentication (2FA) to increase security in high-risk areas.
With over 6.648 billion smartphone users worldwide, the usage of mobile phones as security keys is the most convenient alternative for badges, key fobs, smart cards, touchpads, and others.
Mobile access control is a system that enables people to use their mobile devices to open doors, gates, networks, services and more. For instance, businesses can use Genea, which allows employees to use their Bluetooth Low Energy (BLE) or Near Field Communication (NFC)-enabled mobile phones as access credentials.
Cloud-based Access Control
Cloud-based access control is a technology that enables security administrators to assign and manage physical and mobile credentials to users and monitor their access activities from any device, anywhere, at any time.
The features such as mobile access are often used within cloud-based access control systems. For instance, Genea's cloud-based access control allows security administrators to assign keys in the form of touchless key cards or BLE/NFC-enabled mobile phones, based on the requirements of enterprises.
The main benefits of cloud-based access control include:
Monitoring all access activities in real time
Managing multiple locations from a single global dashboard
Managing access control remotely
Are you seeking the best security system for your enterprise, hotel, commercial real estate building or hospital? Look no further than Genea's cloud-based access control solutions to simplify security.
---
Five Best Door Access Control Systems
Several door access control systems are on the market. However, not all of them are the same.  Below we have selected the five best door access control systems you may want to evaluate.
Genea Access Control
HID Door Entry System
Avigilon
Genetec
LenelS2
1. Genea Access Control
Genea is a leading cloud-based access control system, bundled with features such as mobile access and touchless access. With a user-friendly dashboard that gives enterprises the ability to monitor access events at multiple locations from one browser window, Genea increases the convenience for security administrators significantly.
Pros of Genea
Provides a detailed view of everything happening across all access points of the building in real-time.
Designates employee access based on role and access needs
Accommodates all types of access credentials, including mobile phones, key cards and key fobs
Integrations with existing software tech stack to streamline access control operations.
2. HID Door Entry System
HID is known for its access control hardware, including biometric readers, access card readers, access controllers, and RFID tags. HID Origo is the cloud-based physical access control platform that enables its partner companies to build robust access control technologies through the cloud.
Pros of HID
A mobile access control system that enables people to use their BLE/NFC-enabled mobile phones as access keys.
Powerful biometric solutions
The backing of ASSA ABLOY, a reputed lock maker in the world
Cons of HID
Relatively new in the cloud-based access control arena.
The pricing is relatively higher than its competitors.
3. Avigilon
Avigilon offers a video, cloud and access control solution that helps monitor and secure facilities. Its physical access control system is designed to protect people, property and assets with features such as identity management, alarm management, and video management.
Pros of Avigilon
A superior video surveillance system
Flexible integrations with third-party wireless locking systems
Cons of Avigilon
Setting up and running it requires knowledge and technical skill sets
4. Genetec
Genetec offers an IP-based access control named Security Center Synergis. As a cloud-based access control platform, Synergis works seamlessly with Security Center's other core systems such as Omnicast video management and AutoVu license plate recognition systems to derive operational and security insights about your secured areas.
Pros of Genetec
Works on non-proprietary hardware
A centralized system for access control, video management, and other security applications
Superior video reporting and analytics capabilities
Cons of Genetec
Small and medium-scale enterprises (SMEs) may not afford it due to huge upfront costs
Advanced features like area tracking and intrusion detection are available only in premium plans
5. LenelS2
LenelS2 offers advanced physical security solutions, including access control, mobile credentialing, and video management. It has several flagship products like Netbox and OnGuard to meet the diverse access control needs of industries such as CRE, educational institutions, data centers, government offices and healthcare facilities.
Pros of LenelS2
Companies of all sizes can find a customized solution from LenelS2.
A powerful video management solution built for SMEs with satellite locations.
Cons of LenelS2
It does not facilitate integrations with identity managers like Okta, Azure Active Directory and GSuite.
The contactless visitor access management feature is not available.
---
Genea is the Right Door Access Control System for Your Needs
Choosing suitable access control software is vital for enterprises of all sizes. A cloud-based access control software with features such as touchless access and mobile credentialing increases the convenience for both administrators and users. The five access control systems reviewed above offer a wide range of features that enhance the physical security of buildings.
Genea access control outperforms its peers with a load of features such as a global dashboard, mobile credentialing, a superior visitor management system, integrations with existing tech stack and non-proprietary hardware.
Property managers across industries such as CRE, healthcare, education, retail, and co-working spaces love to associate with Genea over other access control providers for its:
Customer-centric attitude: Genea offers unparalleled customer support 365/24/7.
Ease of use: Developing and deploying credentials is as easy as a breeze with Genea.
Integrations: Genea offers integrations across all verticals, including video management, elevator controls, identity management, parking management, critical event management, and many more.
Cloud-based solution: Enterprises don't need to store and maintain servers on-site.
Most of the companies that offer access control solutions use on-premise and non-proprietary hardware, which makes it easier for them to switch to Genea's cloud-based system. Want to switch to Genea? Schedule a demo of Genea's state-of-the-art, cloud-based access control solution to learn more about how we can help secure your facilities.