What is a Smart Campus?
A smart campus is an educational setting that leverages next-generation digital infrastructure technologies such as cloud access control, machine learning (ML), artificial intelligence (AI), big data, and the Internet of Things (IoT) to improve operational efficiency and create convenient experiences for students and faculty.
A research study revealed that 83% of higher education institutions across the United States have already started investing in digital transformation. In fact:
13% of campuses have already embarked on digital transformation.
32% of campuses are in the process of developing a digital transformation strategy.
38% of higher education institutions are exploring various work streams of digital transformation.
Many higher education institutions are transforming into smart campuses to:
Streamline student services
Reduce wait times for students
Automate financial aid processes
Improve the safety of people when they are on campus premises
Meet sustainability goals by reducing energy consumption and resource utilization
Create a flexible learning environment
This guide provides examples of smart campus technologies, their benefits and the four main principles of designing a smart campus.
Examples of Smart Campus Technologies
Educational institutions are implementing different types of smart campus technologies to increase the convenience for users. A few use case examples of smart campus technologies are:
Access control systems: Access control systems such as surveillance cameras, facial recognition tools, touchless visitor management systems and location intelligence tools can increase the safety of students. Access control systems should also integrate with video management systems to increase security.
Smart sensors: They improve operational efficiencies of campuses by automating physical assets such as HVAC systems and lights.
State-of-the-art hybrid classrooms: They reduce operational costs of campuses and facilitate a student-centric learning environment.
Campus mapping technologies: They use digital mapping and wayfinding tools to guide students, faculty, and visitors to open parking spaces.
Higher Education: CSULB's Smart Campus Initiative
California State University, Long Beach (CSULB) started implementing smart campus technologies in 2016 to help students, faculty, and the general public access existing and new campus services seamlessly. This smart initiative includes various workflows, such as eSignature, Digital Signage, Digital Wayfinding, One Card and more.
Here is a brief overview of a few smart campus applications implemented at CSULB:
As part of the smart campus initiative, CSULB implemented a wireless door electronic entry system that eliminated the need for traditional keys. The traditional keys are replaced with One Card, a campus identity card that streamlines students' access to residence halls and Beachside rooms at the CSULB campus. Students of CSULB can also use One Card to pay for meals, printing, laundry, and other services.
The student virtual lab provides 24/7 access to university-licensed software applications such as Minitab, MATLAB, SAS, SPSS, and Office 2016 at no cost from anywhere. Additionally, the university implemented digitalized attendance and reporting technology to replace paper-based attendance with cloud-based time and attendance software.
Benefits of a Next-gen Smart Campus
Next-gen smart campus solutions offer several benefits to students, faculty, admin staff, and the university as a whole.
Here is an in-depth view into the benefits of smart campus solutions.
Improves operational efficiency
Being a smart campus enables a university to automate repetitive processes and replace age-old procedures with innovative technologies such as AI and cloud-based services.
For example, on a college campus, there is an increased need to add new users and remove old ones, but it can be difficult to go onsite to do so each time. Smart campus solutions can improve operational efficiency by giving administrators the ability to add and remove users remotely.
Supports campus safety
Campus security has been a predominant issue for universities for the last few decades. Frequent patrols may not be able to protect students from bullying and attacks.
Access control systems should have the ability to integrate with video management systems in the cloud to promote campus security and safety for all students and faculty.
An internet-connected security infrastructure, powered by intelligent technologies such as location intelligence tools, wireless sensors, geofencing, and smart IP video cameras may help universities improve the safety of students. Advanced lockdown plans can also help to support campus security and safety.
Improves the student experience
Smart campuses can improve the student experience with the help of:
Collaborative educational tools that engage students in interaction-based learning activities.
University-licensed applications that address students' needs efficiently.
Reliable wi-fi connectivity throughout campus premises including dorm rooms.
Personal student networks.
Smart campus ID cards that give access to all facilities in the university.
Smart payment options that facilitate contactless payments.
Interactive digital kiosks.
Helps make data-based decisions
Data-backed decision-making can fetch favorable outcomes. Data-driven decisions help businesses achieve an 8% increase in revenues and a 10% decrease in costs. A smart campus may collect real-time data pertaining to transportation routes, user behavior, occupancies, academic performance, facility availability, and facility usage. The university can analyze this data to proactively respond and foster positive outcomes.
4 Main Principles on Designing a Smart Campus
Smart university campuses may need to meet the principles such as ease of use, student-centered learning, scalability, and automation. Let's take an in-depth look into these principles of a smart campus below.
Ease of use
Universities implement smart campus technologies to increase convenience for all stakeholders, including students, faculty, and admin staff. Ease of use is the primary criterion every smart campus should meet.
For example, the University of Central Florida has created a student portal that integrates all student services, including admissions, registration, enrollment, immigration, video conferencing, and a learning management system. This kind of interface may increase the ease of use and convenience for students in accessing various services the university offers.
Student-centric
The student-centric learning approach puts students at the center of the learning process. A few characteristics of a student-centric learning environment are:
Acknowledging the interests of students.
Motivating students to engage in discussions.
Giving the required autonomy and independence to students.
Therefore, a smart campus may need to create a learning environment that facilitates the active participation of students.
For example, the University of Arizona uses Slack, a team collaboration platform, to create a student-centric environment where students connect to engage in discussions. This application also enables the students to interact with instructors to clarify doubts. In fact, the university is providing direct access to resources such as tutoring, advising, social outreach, research, libraries, and many more through Slack.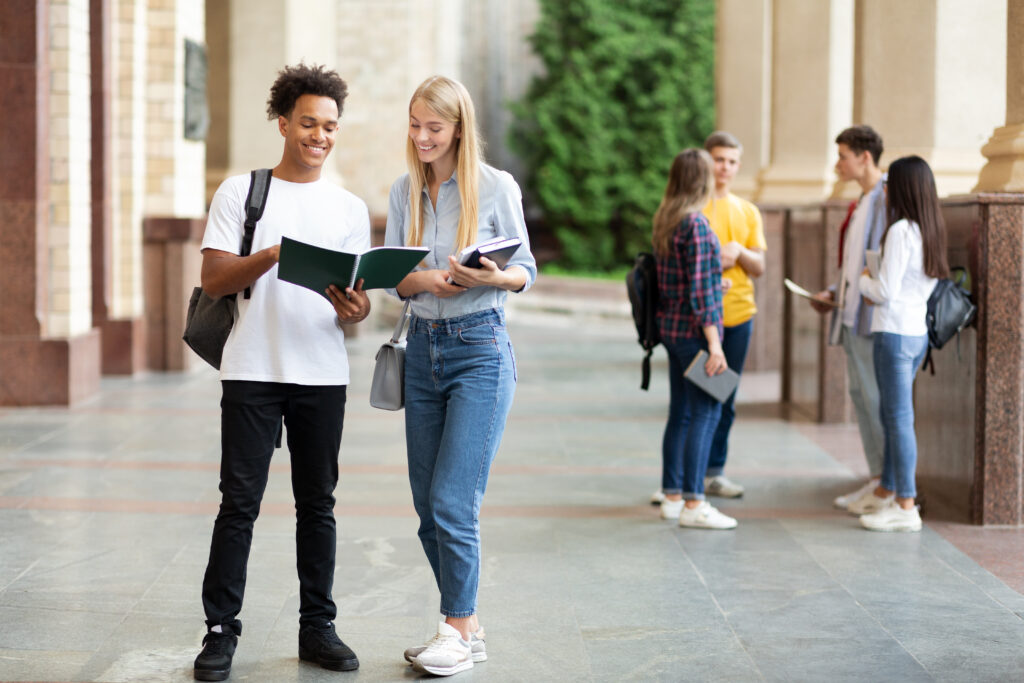 Scalability
A scalable system can accommodate rapid changes in user demands and workloads. If the IT infrastructure is not scalable, you may need to redesign the entire software architecture, which may be time-consuming and costly. Smart campuses should deploy the infrastructure of IoT that can be scalable both vertically and horizontally in the future.
Vertical Integration: If a smart campus wants to increase the capacity of sensors, it should be able to replace the existing sensor with a greater capacity sensor of the latest version without making any changes to the software architecture.
Horizontal Integration: If the university wants to cover an extended area with sensors, the existing infrastructure should be able to accommodate more sensors without making any changes to the software architecture.
Automated (where possible) and modular
Automation is a vital component of the smart campus. Smart campuses may need to automate all the possible repetitive processes to increase operational efficiency and reduce costs. For instance, smart campuses can build a robust security system with the help of third-party API integrations to automate processes such as video surveillance and visitor management.
Build a Smart Campus with Genea's Help
Universities across the United States are implementing a wide range of digital technologies and process automation tools to improve the learning experiences of students significantly. A smart campus may result in higher operational efficiency, improved campus safety, and superior campus experiences.
Genea can optimize processes such as access control, visitor management, and HVAC control with the help of best-in-class innovation technologies such as:
Cloud-based Access Control System: It allows students to gain access to the library, labs, and residence halls through a digital key or mobile access control.
Touchless Visitor Management System: It allows visitors to pre-register and gain access to the campus through a QR or a barcode. It would help automate the visitor management process at the campus.
Cloud-based HVAC Control: It automates heating, air conditioning, and lighting devices at the campus.
Learn how Genea's Cutting-edge technologies can help build smart campuses and create a strong ecosystem that contributes to student success.