Get on with your badge self. Genea has done it again — this time bringing innovation badge design and printing to the access control market. The industry leader in cloud-based access control has created a way to design, brand and print custom access badges. With Genea Badge Designer and Printing, IT and security professionals have the power to bring company branding to life on a physical credential. Design, print and distribute quickly and efficiently right from an IP-based interface. The release also improves the provisioning process. Now, with Genea Access Control and Visitor Management, admins can pre-program credential expiration dates and "use-it-or-lose-it" durations. Explore all the new Genea features that are making lives easier.
Badge Designer: Branding a Badge in Minutes
Badge Designer gives admins a user-friendly way to customize badges in minutes. To start, admins can choose between a new document or an existing template. Genea offers several stock templates to help as well. After creating the document, choose from a wide range of versatile design options including custom badge sizes, fonts, colors, and more. Spice up badges with shapes or artwork to fit brand guidelines. Add attributes like employee name, department, or even a QR or barcode.
But what's a badge without a headshot? Drop in an employee ID photo and position it to your liking. Once satisfied with your masterpiece, send it to the printer with a few simple clicks.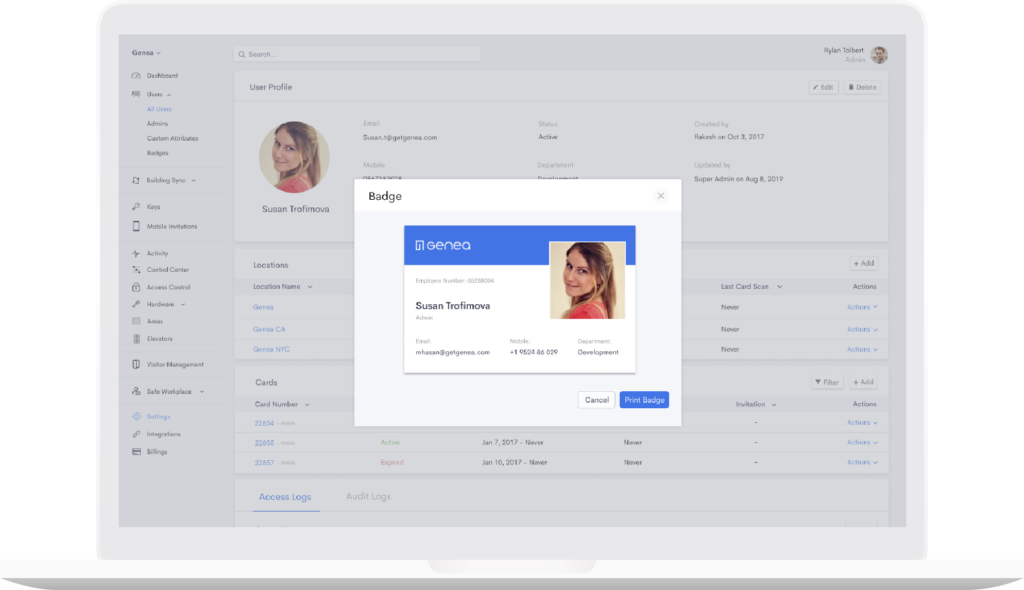 Access Control Badges: Customizable by Role
While it may not be your company's MO to create a "hip" badge that adds to your "swag," Genea Badge Designer creates more than just a piece of eye candy. These badges play a practical and vital role in the security of your building and suite.
Badge templates can be customized to a specific group, role, or department. For example, one design might be used for interns or guests while another layout might be used for permanent employees. If Steve, from the Indian food delivery service Curry Up, frequents an office building, he might even be given a horizontal, yellow badge. Whereas, the office employees might wear vertical, orange access badges.
Differentiating badges by user type raises employee awareness within the work environment (i.e., employees will take note of suspicious activity.)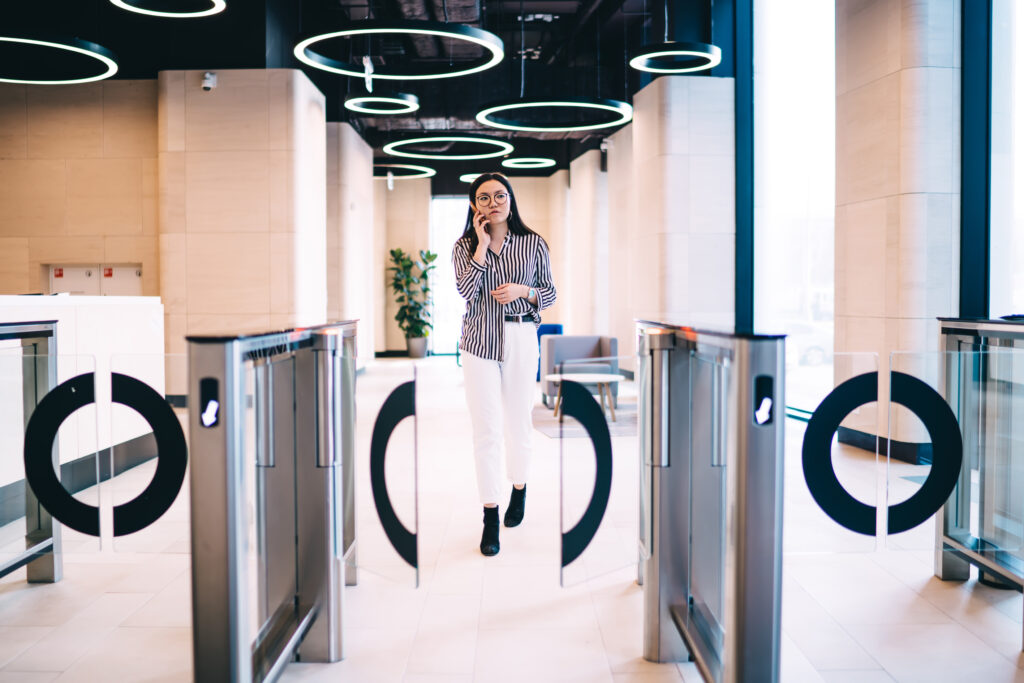 Use QR Codes and Barcodes for Access Control Badges
Aside from storing access credentials, admins can incorporate barcodes or QR codes into their badge design. In healthcare facilities, a QR code printed onto a badge could link to spending accounts for use in gift stores or cafeterias. Barcodes or QR codes could also book shared conference rooms within a facility.
Pre-Programmed Badge Activation and Expiration
As you might have guessed, Genea Badge Designer and Printing streamlines the provisioning and de-provisioning process. After your Van Gogh of badges gets created, save your template for reuse. Doing this will quicken the badge creation process for other employees.
Badge Designer and Printing also functions with Genea Visitor Management and Access Control. Admins can pre-program credentials to activate and deactivate automatically. For instance, a new hire may need to enter the office before their official start date. They may need to sign paperwork or attend an in-person training. Not only can admins print the start and expiration dates on the badge, but they also have the power to pre-program these dates into Genea Access Control.
While badges can be designed uniquely, badge functionality can also be customized. Admins may customize functionality based on company policies. For example, all intern access badges could expire after three months, whereas vendor badges might never expire.
'Use It or Lose It': Eliminate Inactive Access Control Key Cards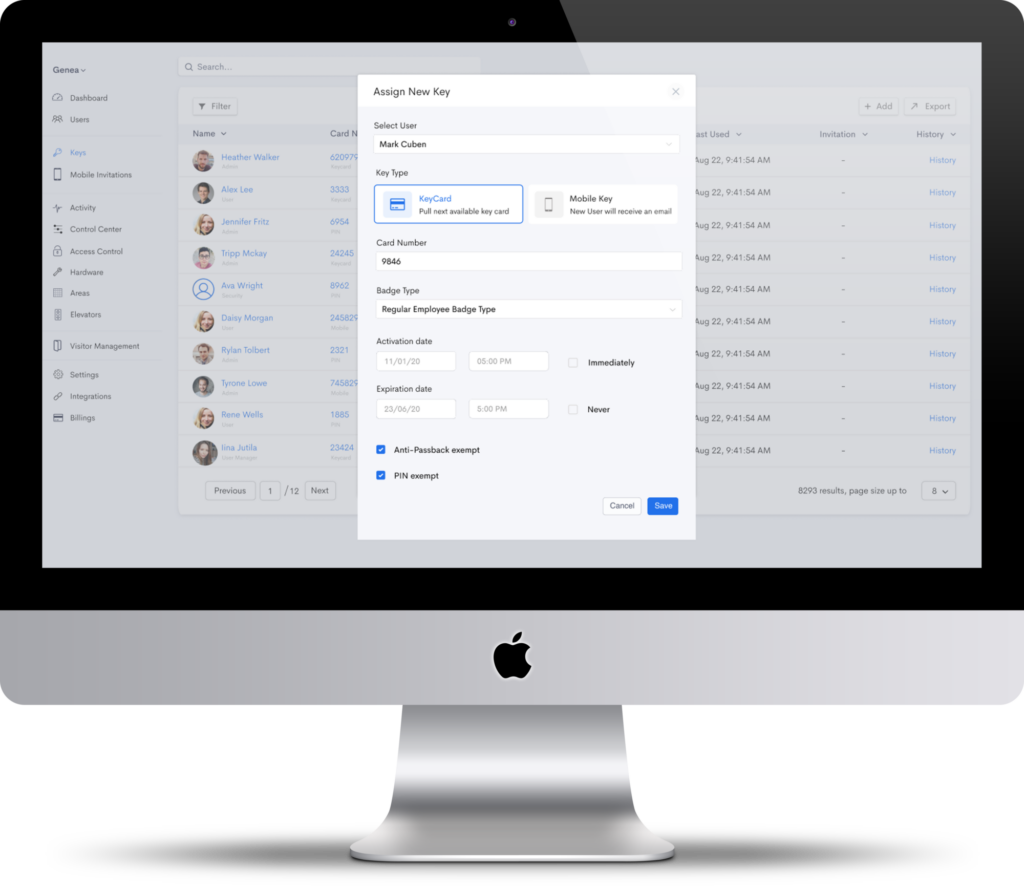 So, pre-programmed activation and expiration dates are beneficial. But we at Genea love automating workflows for our customers. Who doesn't want to save time and make life easier, right?
With our use-it-or-lose-it feature, badges automatically deactivate after an admin-designated period of inactivity. Through "use it or lose it," admins customize the allowable time a credential may remain inactive before it permanently deactivates. This period can be customized and targeted to a specific badge type.
For example, an admin might designate a two-week "use-it-or-lose-it" period for "Curry Up" Steve (the delivery person from earlier. If Steve gets a new delivery job, thereby quitting his job at Curry Up, the food delivery service might not inform the access control administrator of the change. Normally Steve's credentials would remain active in the access control system. However, since the system admin designated a two-week, use-it-or-lose-it period, the credential will automatically deactivate after two weeks.
Dormant credentials remaining within an access control system pose a security vulnerability. Genea aimed to address this problem. By empowering admins to limit the duration of badge inactivity, these security risks greatly subside. Those without "use-it-or-lose-it" face a decision: Either risk the use of outdated credentials accessing the facility or choose an arbitrary date and delete all non-essential credentials before that date. Either is a shoddy way of dealing with the situation.
Bulk Badge Printing for Access Control
Many medium-sized and large organizations need a way to print badges efficiently. With Genea Badge Printing, you can print your key cards in bulk.  Print up to 200 badges at once. Administrators simply need to follow these five steps:
Select the user badges you wish to print.
Enter the card information.
Specify the batch size.
Confirm the activation and expiration dates.
Print a test badge and confirm your bulk print.
Genea makes it easy to print large quantities of custom-branded badges, so you can spend time on more important tasks.
Genea is Here to Help
Whether looking for badge designing and printing software or adding an entirely new modern access control system, Genea is here to help. With 24/7/365 support, our team prides itself in offering a white-glove approach to customer service. We promise to carefully guide you through the process, from pre-installation to implementation.
Schedule a demo to learn more about how Genea Access Control, custom Access Badges can help bring your company branding to life on a physical credential.