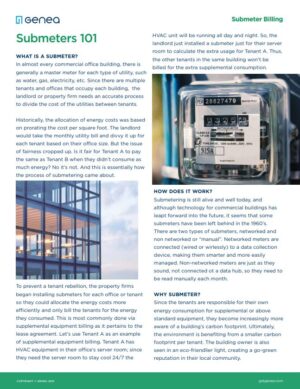 In almost every commercial office building, there is generally a master meter for each type of utility, such as water, gas, electricity, etc. Since there are multiple tenants and offices that occupy each building, the landlord or property firm needs an accurate process to divide the cost of utilities between tenants.
This whitepaper will give you a basic rundown of submetering, how it came to be and why it's important to make sure it's done correctly.
Schedule a demo to learn how Genea's cloud-based platform can streamline and automate submeter billing processes at your building.