In today's fast-paced world, efficient and powerful physical security is vital for organizations of all sizes. Along with a cloud-based access control system, IT and security teams must choose the right hardware for their access points. That's why Genea is proud to announce our latest integration, bringing together the power of wireless Allegion Schlage door locks and Genea's cloud-based access control solution.*
How do Wireless Locks Work?
The integration between Access Control and Allegion enables IT and security teams to connect their door locks to their access control system wirelessly. Instead of running wiring through your building, this integration makes it possible to skip the added expense and installation time.
Wireless door locks are powered by an internal battery and connect wirelessly to your access control system through the internet. Businesses can easily integrate wireless locks into existing access control systems and facilitate keyless entry for users.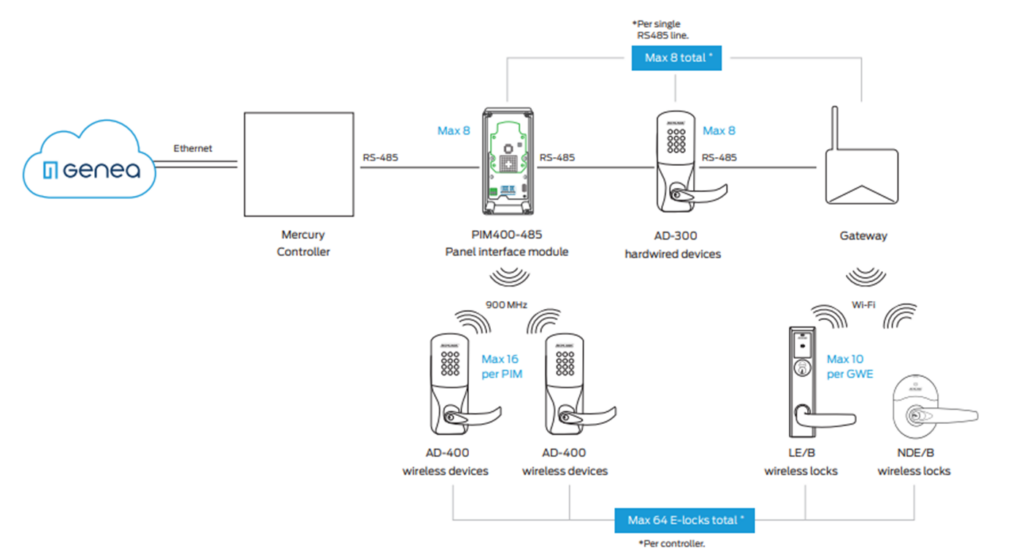 Unlocking New Possibilities with Allegion
Genea's integration with Allegion Schlage locks offers a range of benefits and functionalities that enhance access control systems. Let's explore the key features and advantages of this integration:
Expanded Lock Compatibility: Genea now supports a variety of locks from the Schlage series, ensuring compatibility with different types of doors and access requirements. The supported locks include:
AD-300 locks via RS-485, AD-400 locks via PIM400-485 (RS-485)
NDE/NDEB/LE/LEB series locks with ENGAGE gateway (RS-485)
Full Integration with Non-propriety, Mercury Controllers: By leveraging Mercury hardware, the Genea application seamlessly communicates with Schlage locks.
Enhanced Functionality
Genea's robust set of features enables IT and security teams with the tools they need whether working at or away from your facility. With the Genea + Schlage integration, businesses can leverage advanced access control features, like:
Access groups and schedules: Define customized access groups and schedules based on specific requirements, granting permissions to individuals or groups for specified time frames.
Remote operations: Gain the flexibility to perform lock/unlock and quick grant operations remotely, improving operational efficiency and convenience.
Door-unlock schedule: Set specific schedules for door unlocks, enabling automated access during designated time periods.
Emergency plans: Implement emergency plans that enable swift response in critical situations, such as lockdowns or evacuations.
Door alarms: Receive real-time notifications and alerts for door-related events, enhancing security and enabling proactive actions.
Benefits of Allegion Wireless Locks
Wireless locks are often used to overcome a variety of challenges in physical security. These challenges range from equipping hard-to-reach doors to arming multi-door facilities. For example, wireless locks often appear in hospitals and schools due to the large number of access points at these facilities. These are the primary reasons for choosing a wireless lock.
One additional factor for choosing wireless locks may be the cost. Although wireless locks are often more expensive than the wired alternative, the installation is sometimes less expensive.
The Genea + Allegion Schlage integration opens new possibilities for enterprises, commercial real estate portfolios, schools and others wanting a cloud-based physical access control solution. By combining the reliability of Schlage locks with the advanced features and functionalities of Genea, organizations can effectively manage access, enhance security and streamline operations.
To learn more about the Genea + Schlage integration your physical access control system, contact our team or visit our website.