Last week, we hosted a Webinar on Practical Ways to Implement Technology that Tenants are Demanding. Robert Vail, Genea's VP of Sales, moderated the Webinar and was accompanied by Genea's in-house experts. The panel included Brian Haine, Genea's Director of Technical Services, Paul Marcoux, Genea's Director of Submeter Billing, and Mike Maxsenti, Genea's Director of Access Control.
The Webinar covered how to select a technology project, evaluate a technology vendor, and what to look for in a solution. We have broken down the webinar into a three-part series with each blog post focused on a different technology solution to streamline processes at your building.
Rob kicked off the webinar with a brief overview of Genea and our cloud-based software solutions for commercial real estate buildings. He also addressed how to prioritize and select technology projects.
Typically, building teams must decide how to prioritize between internal operations (BMS upgrade, PM software), tenant-facing systems (work order systems, access control), or vanity projects (lobby renovations, gyms, etc.). This requires taking timing into consideration and deciding if the project can be completed immediately, if it should wait for budget approval, or can be implemented in small pieces throughout the year.
Additionally, due to COVID-19 and the ever-changing rules, regulations and best practices, it is important to choose not only the right technology, but also technology partner in this constantly changing and uncertain environment.
In addition to making careful decisions about the projects and technology, it is beneficial to have a standard process in place for selecting vendors. A few questions to ask:
Do you evaluate companies you've worked with previously and bring their technology with you?
Do you rely on organizations such as BOMA or CoreNet and select companies active within the communities in your professional life?
How do you mitigate risk to avoid negatively impacting the business?
If the technology is tenant facing, there should be additional questions in your process including:
Do you make sure the technology implemented receives support for your tenants?
How do you envision integrating your technology partners once it has been implemented?
There are thousands of different commercial real estate technology companies that have entered the market in the last 3-5 years. It isn't an easy process to decide who you can trust and work with. Conducting a little research and talking with people who have used a company in the past will help ensure your decision will benefit the building, your employees and your tenants.
When performing this research, we have a few recommendations of specific features to look for in a solution:
Hardware Agnostic: You should be able to leverage existing items in your building including your existing BMS, existing meters, existing controllers and readers for access control and more.
Integrations: As-of-late everything is in "the cloud", which should allow for a lot of API integrations with directory services, communication tools and more, as well as integrations between multiple companies.
Minimal Setup Fees: If you are installing a solution, especially one that is software based, it should be incredibly cost efficient.
On-Going Support: The company should provide onboarding training for you and all your users, provide on-going support, and generally be available for you whenever you experience difficulties. You do not want to be stuck with a product you don't know how to use, and no way to contact support.
Here are a few solutions we call "easy wins." Generally, they are quick to implement and guarantee the improvement of processes at your buildings.
Eliminate paper forms: Regardless of what the form is for, there is no reason to have forms available to download and send in. There are more than enough solutions that allow requests for services to be completed electronically.
Get out of spreadsheet hell: In conjunction with eliminating paper forms, there is also no reason to continue using messy, hand-written spreadsheets that have been passed through multiple hands to eventually try and bill a customer. It is inefficient, and often inaccurate, causing more headaches for everyone down the line.
Go mobile: You should also be looking at mobile first technology; the more services you can put in the hands of your tenants via mobile app, the better.
Overtime HVAC requests are often an inefficient process. They consistently provide property teams headaches with most problems stemming from forms and work order systems. Some of these problems are:
Inefficient: Having tenants fill out a form, who then takes that to an engineer, who goes to the BMS and programs the request is a disorganized, timely process.
People stop using forms: Tenants don't want to deal with having to fill out a form so they will circumvent the system by going directly to the engineers and demanding air in the moment which can be forgotten to be billed back to that tenant.
Leasing nuances can be forgotten: There are so many intricacies and conditions in a lease regarding the billback of Overtime HVAC, and using a form makes it difficult to ensure they are all being accounted for.
Time-sensitive: If employees are coming into the office late or decide they need air immediately, having a long, form-ridden process makes that difficult to guarantee requests occur when they are needed.
Our recommendation (naturally) is using a solution for tenant-facing automation, such as Genea's Overtime HVAC software. This product gives tenants the ability to open a mobile app and immediately request Overtime HVAC and lighting whenever they need it.
Additionally, this software integrates with existing BMS systems, handles all billing nuances, has a simple user experience, and improves tenant satisfaction by giving them control. Implementations can be completed in 30-45 days, and includes 24/7 customer support direct from the Genea team.
A solution that is easy-to-use, automated, and benefits tenants provides a lot of positive results. We conducted a case study on one of our sites in South Florida, and after one year of implementing Genea's Overtime HVAC software, the building saw an increase of $45,000 in Overtime HVAC revenue.*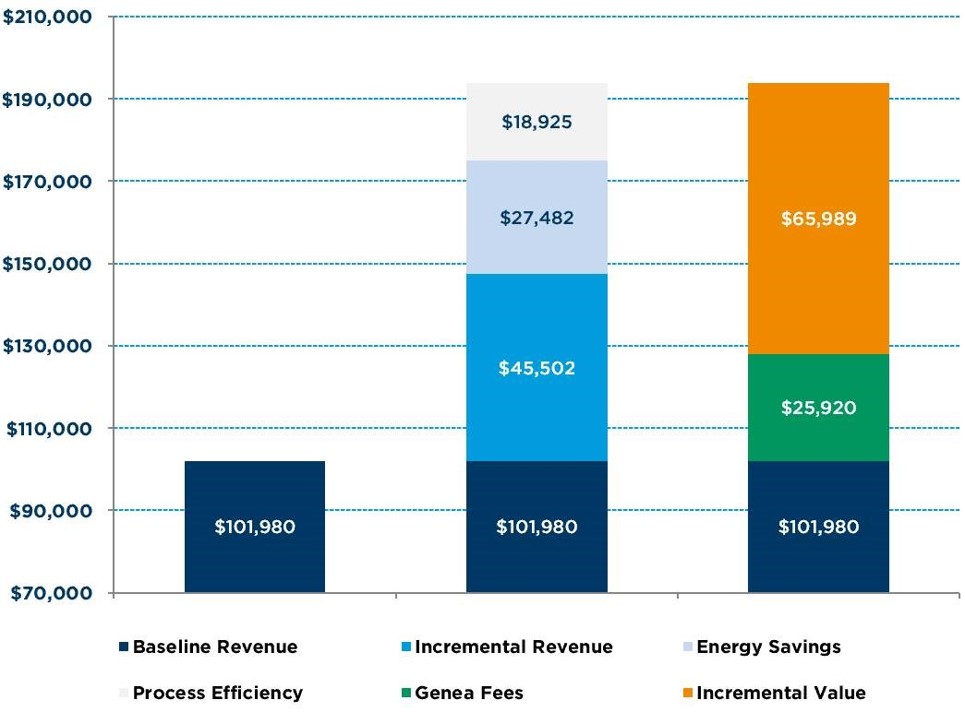 These savings were accredited to a few factors.
Software that is easy to use typically results in an increase of adoption, providing more billing potential.
The software plugs revenue leakage ensuring all use is being billed for 100% of the time.
It saves energy at low-occupancy times preventing waste and improving savings.
It creates process efficiency, freeing up time of property teams to focus on other important tasks.
Although we make it sound simple, implementing an effective overtime HVAC solution can create confusion and many questions. Brian Haine, Genea's Director of Technical Services, answered a few commonly asked questions.
To provide a bit of background, Brian has 35 years of experience in the building industry as a Journeyman electrician, HVAC controls technician and Project Manager. He has been with Genea for over 11 years and is a self-proclaimed "nerd" of metering & collection systems.
Q: How does Genea connect to a BMA (building automation system), can you work with any BMS, including proprietary systems?
Genea's software is capable of working with any BMS system, even proprietary systems. We are able to adjust the method of connecting depending on the system. We can either connect to your BMS by deploying a device to your site that sits on that network and talks across the network to the different controllers, or by sending out a cable that plugs into the system.
Q: What if our building does not have DDC and is still pneumatic, can you connect your solution to our BMS and provide any benefit to our building?
We can connect to any system and provide value, including buildings that do not have a DDC. as long as there is some form of energy management system. The more BMS control there is, the more value we we can bring to the building.
Q: Are you going to turn on our chiller? If so, how do you ensure that you meet enough load for the equipment?
We do not turn on pieces of equipment directly – especially the chiller. We turn on the point that enables the system to start. We don't bypass any safeties or directly command any piece of equipment. We rely on the EMS programming to turn the equipment on. If you need to keep a certain amount of floors on to allow your chiller to run, we can command multiple floors, points, and configurations to meet minimum load and allow the chiller to run.
Q: What is required from an IT perspective? How do you ensure that your system cannot be hacked like the Target hack a few years back?
To maintain the highest level of security, we require that we are on a private network, behind an existing firewall to prevent being hacked directly. If the device is hacked, that means the culprit has already gone through several other firewalls and security features to reach our box. Our device is connected to our data center by a very secure BPN, requiring multiple levels of security being hacked before intruding on our system. It won't be said that it can't happen, but Genea takes all the possible measures to prevent a breach happening.
Q: How long does it take to implement your system and what kind of work should be expected from our controls contractor?
The shortest implementation of our system is 7 days, but depending on the building and EMS vendor, 30 days is average for a full implementation of our system. The work for implementation needed from a buildings controls contractor is dependent on the system and relationship with the system. A large complex system should expect about a day or two, and a smaller system (less than 10 floors), would take less than a day of work and can often be scheduled to coincide with a day of planned maintenance from the EMS vendor.
In part 2, Robert addresses the problems associated with manual submeter billing processes and provides an overview of Genea's automated Submeter Billing solution. Genea's Director of Submeter Billing, Paul Marcoux, will join Rob to answer frequently asked questions and provide his expert insight.
If you have any further questions regarding our Overtime HVAC software, feel free to reach out to Brian directly.
For more information on how Genea can provide your building with automated, cloud-based solutions for overtime HVAC and lighting requests, schedule a demo below.