What are Mobile Credentials and Mobile Access Control?
Mobile credentials offer one of the most convenient and cost-effective types of access control on the market. In fact, it's predicted that up to 20% of all organizations will be using mobile access control systems in the near future, compared to just 5% in 2016.
These days, almost everything can be done using mobile phones; this includes regulating entry and access to buildings. In mobile access control systems, smartphones, smartwatches, and tablets verify identities at distinct entry points of a building. With tools like mobile applications and QR codes, Android, Apple, and other smart devices can replace traditional keys, key cards or badges and function as entry credentials.
How Do Mobile Credentials Work? Two Popular Methods
Bluetooth Low Energy (BLE)
Bluetooth-enabled mobile access allows security systems to pair with smartphones, even if a WiFi connection is unavailable. Instead, Bluetooth technology establishes a personal-area network (PAN) between two devices that allows them to share info such as access credentials.
Near Field Communication (NFC)
Due to its ease-of-use and minimal contact, near field communication (NFC) is becoming increasingly popular. Commonly, NFC technology is being used at ATMs and for various payment systems.
When it comes to access control, NFC offers a convenient and frictionless option for touchless entry. This is an especially advantageous method in the era of COVID-19, where minimal to no contact is essential to workplace health.

NFC is the premier choice for a contactless exchange or transmission of data (in this case, credentials) between two devices. Similar to Bluetooth, NFC works on the principle of sending information through radio frequency waves. Unlike Bluetooth, however, NFC is limited to small ranges or shorter distances of communication.
What are the Benefits of Using Mobile Credentials?
The benefits of mobile credentials affect nearly every facet of your operation. The primary perks of using mobile credentials include:
1. Increased security and employee safety
2. Reduced chance of stolen or lost badges
3. Added convenience
4. Cost-effective
5. Mitigation of health risks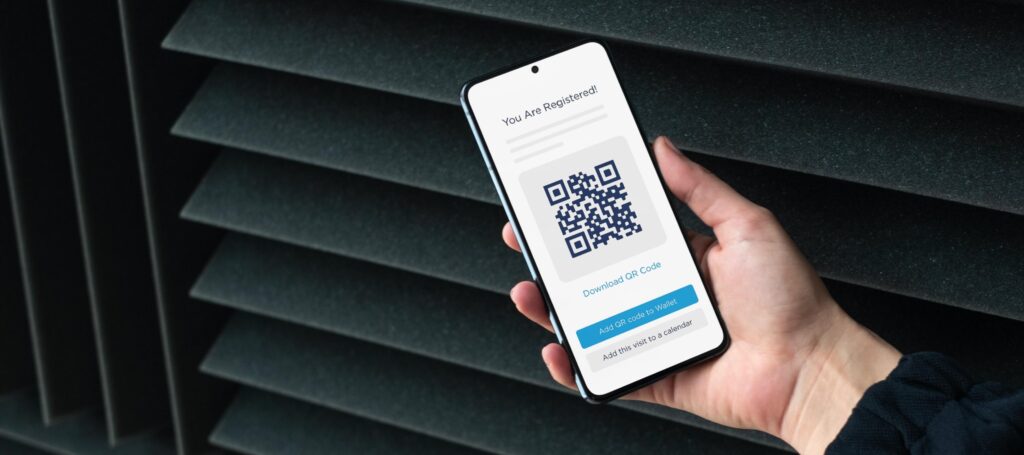 1. Increased physical security and employee safety
The main benefits of mobile access credentials are increased physical security and employee safety.

MFA (multi-factor authentication): Gives you the ability to use multiple authentication steps for entry to sensitive areas. For example, you can combine Bluetooth mobile credentials with text message verification.
Audit logs: Mobile access control system software logs access events. This software records the person, time and location of each access event. In the case of an audit or emergency, you can easily pull up and reference the log.
2. Reduced chance of stolen or lost badges
Mobile credentials greatly reduce the likelihood of stolen or lost badges and proximity cards. This is because people generally keep their cellphones, and tend to place more value in their personal belongings. Additionally, credential data can be easily updated in mobile phones, circumventing the need to overhaul entire systems when managing credentials.

3. Added convenience for all
Mobile credentials offer unparalleled convenience for tenants and system administrators.
For tenants, mobile credentials completely eliminate the need for physical keys, smart cards, or keyfobs. That is the foremost and simplest added convenience—it means tenants no longer need to root around and search for their keys, only to potentially never find them. Further and more importantly, mobile access can work offline and doesn't require a downloaded mobile app to work. (As an added bonus, some advanced mobile access systems are even smartwatch compatible!)
For building teams and system administrators, mobile access credentials and permissions can be easily updated in real-time, greatly reducing the excessive labor and time required when entry systems need to be updated manually. Mobile access systems and credential management can also be conducted on the cloud, allowing administrators to manage mobile access remotely.
4. Cost-effective solution
Because mobile credentials are easily updated, mobile credentials reduce labor- and cost-intensive door and lock system overhauls in the event of lost access cards. When a physical key is lost, it may require building teams to effectively "lock down" an entire building for risk mitigation.
This can result in unnecessary downtime, the loss of productivity, and a general inconvenience to all those affected. Further, mobile credentials eliminate the need to procure physical credentials, such as keys and badges. These tools can save you significant costs in the long run.
5. Mitigate health risks with a touchless workplace
The COVID-19 pandemic has infiltrated nearly every facet of the business world. As businesses return to normal operations in offices, there are safety concerns about the spread of the virus. Mobile credentials give employees, tenants, and visitors alike the option to enter your building via contactless methods. When integrated with Safe Workplace technology, mobile credentials can be used in conjunction with features such as temperature checks and contact tracing.
Mobile Access with Genea
Because mobile access credentials can benefit nearly every facet of your operation, they are quickly becoming adopted as preferred access credentials in the security industry. Mobile credentials offer the most convenient and cost-effective means for regulating access control in your building. Even better, mobile credentials are easily integrated not only with access control software, but with features already built-in for smart devices.
Genea offers a robust access control platform that utilizes the most up-to-date technologies, including mobile credentials. With our cloud-based access control system, you can manage keyholders, monitor activity, and create audit reports with the simple push of a button.

Learn how Genea's mobile access control solutions can help secure your operation and keep your tenants happy.