The Importance of Using Strong Parking Management Software
Parking management software helps optimize the use of parking spaces, manages the influx of cars and enforces access control within parking facilities. It automates the parking control processes, providing real-time data about the availability of parking spots and parking payments. This simplifies things for property management teams, HOAs and visitor management services by implementing a parking software that moves away from old school parking permits to an upgraded form of parking enforcement.
There are several reasons to use parking management, including:
Restricting unauthorized vehicles from entering the parking structure
Enhancing the parking experience with mobile credentials
Increasing safety for vehicles and people in parking lots
Reduced operational and management costs
Contactless parking and automated vehicle identification with notifications
This article explains everything you need to know about parking management software and vehicle access management systems.
Common Security Threats for Parking Lots
A lot of security incidents and criminal activities take place in parking lots, especially after-hours.
For instance:
Parking lots and garages are the third most common location for violent crimes. Moreover, nearly 22% of car thefts occur in parking lots.
Over 500 people die and 60,000 people are injured in parking lots every year.
Some of the common security threats for parking lots are:
Accidents due to tailgating
Vehicle damage, property damage and vandalism
Violence
Automobile theft
A strong parking management platform helps reduce these problems for parkers:
Eliminate Tailgating: A vehicle access control system can restrict unauthorized vehicles from moving closely behind another vehicle and reduce the chances of crimes.
Increasing Accountability: Drivers will have a free reign to do what they want if there is no tracking system in the parking lot; this leads to damages to the property and other vehicles parked in the lot. Parking management software helps property and security teams track vehicles using surveillance systems and holds drivers accountable for damages.
How do parking management systems work?
Parking management systems offer different functionalities depending on the type of facility.
There are three major components in the parking management system: a parking gate, an access control reader and access credentials.
Parking gate: Parking gate is a barrier or fence installed at the check-in point of the parking lot. High-security facilities install a fence that prevents people from walking around or under the gate.
Access credentials: Access credentials are anything, including a physical key fob, access card or a mobile phone that helps verify a user's identity.
Access control reader: An access control reader is a device that reads access credentials and authorizes the identity of the user.
The following are the steps involved in the functioning of the parking management system:
The security team assigns parking passes (access credentials) to the user (driver of the vehicle).
The user presents access credentials to the access control reader installed at the entry of the parking lot.
The access control reader reads the credentials and sends the data through a control panel for the validation of the user.
The control panel sends back a signal to the parking gate security system to unlock the gate if the credentials are validated.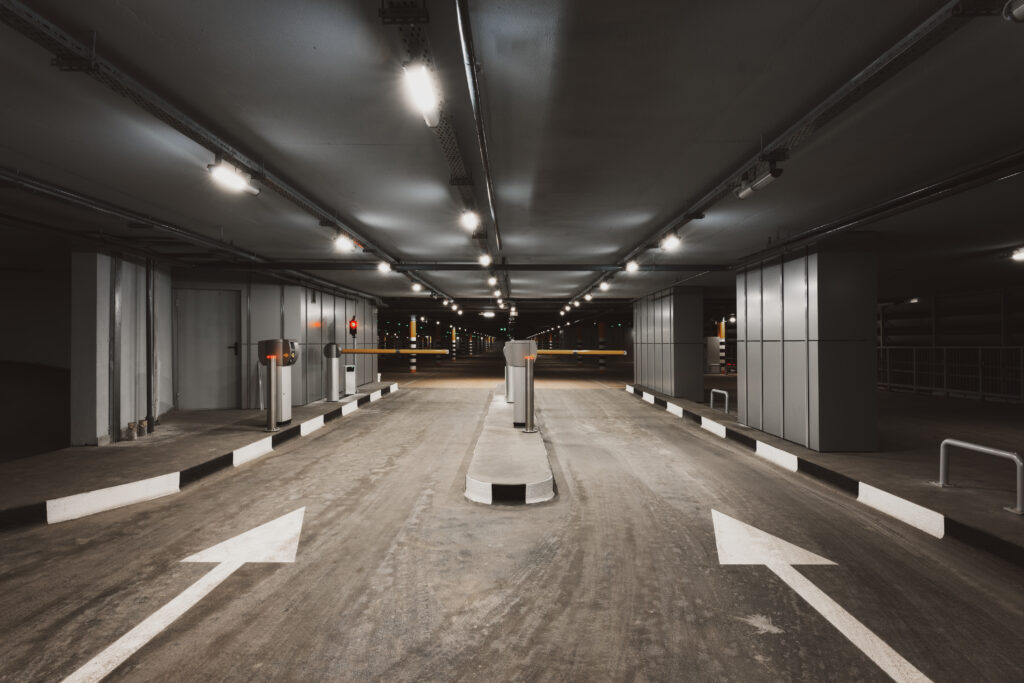 Features of Genea's Access Control for Car Parking
Genea Access Control can be used to restrict unauthorized vehicles from entering parking facilities.
Genea's cloud-based system comes with a FLASH Parking integration, allowing security teams to automate the parking management workflow. The Genea + FLASH integration offers an intuitive access control portal that eliminates redundancy by syncing door access control with parking management systems. For instance, a user added to Genea Access Control will automatically be added within FLASH. The cloud access control environment eliminates the need for IT and security teams to collect the user information and input it into multiple systems.
Additionally, Genea's cloud-based access control can be integrated with various video surveillance systems, including Rhombus Systems, Milestone Systems, Eagle Eye Networks and Cisco Meraki to provide foolproof security.
Mobile access control for smart parking
Ever thought of opening a parking gate with your smartphone? Genea Access Control enables users to open parking gates with NFC or BLE-enabled smartphones. This functionality eliminates the need for physical key fobs, key cards or other peripherals to open gates.
Benefits of mobile access control for smart parking include:
Just tap or twist to open gates
Works even during a power outage
Users don't need to open the mobile app to open gates
Enhanced security with two-factor authentication (2FA)
Fewer security concerns over parking spaces
Hospitals, enterprises, schools and real estate management companies can significantly reduce security concerns over parking spaces by using a video surveillance system integrated into cloud-based access control.
Parking operators can install Rhombus surveillance cameras at various corners of the parking site and integrate them with Genea's cloud-based access control system to monitor activities such as thefts, mischief, vandalism and other crimes.
Features of Genea's Access Control + Rhombus Systems are:
Gate mapping: It links the security cameras with gate access events.
Real-time video feeds: The real-time video feeds trigger an alarm to the security administrator when an incident takes place.
Secure Your Parking Lots with Genea Access Control
A parking management solution is essential for taking full control over your parking sites. A good vehicle access control system restricts unauthorized people from entering into parking lots, streamlines the allocation of parking spots and reduces vandalism and theft within parking lots.
Genea offers cutting-edge physical access control technologies that help protect facilities, physical assets and people.
Schedule a demo to learn more about how Genea's cloud-based access control can help improve the security of your parking spot while enhancing user experience.