What does elevator access control look like?
One of the best ways to secure your building is with an elevator access control system.
Elevator access control systems grant and prohibit entry based on user credentials. These credentials are stored in the building's access control system and provisioned based on the user.
The benefits of an elevator access control system include:
Restricting unauthorized users from accessing particular floors.
The credential works for only specific floor selection buttons to which he or she requires access.
It can be used in conjunction with other door access control systems to enhance the efficiency of the internal security of the building.
Improving user convenience without compromising security.
This article explains the different types of elevator access control systems and their components.
Types of Elevator Access Control
Property teams use different types of elevator access control depending on the size of the building, the number of people moving in and out through elevators and the physical security needs of the building.
A few commonly used elevator access control systems are:
Single elevator access control
Elevator banks
Smart elevators
Single elevator access control
Office buildings with a single elevator, fewer floors and fewer daily riders use single elevator access control systems. Access card readers are often installed on these elevators. To initiate elevator functionality, riders must use their mobile or physical access card.
A single elevator, which is considered a call-button elevator, can be integrated with a cloud-based access control system. Security administrators can then assign or revoke access credentials and monitor their properties while on or off site. They may also create an elevator schedule, in which the elevator becomes inoperable during specific times, such as after hours and on weekends.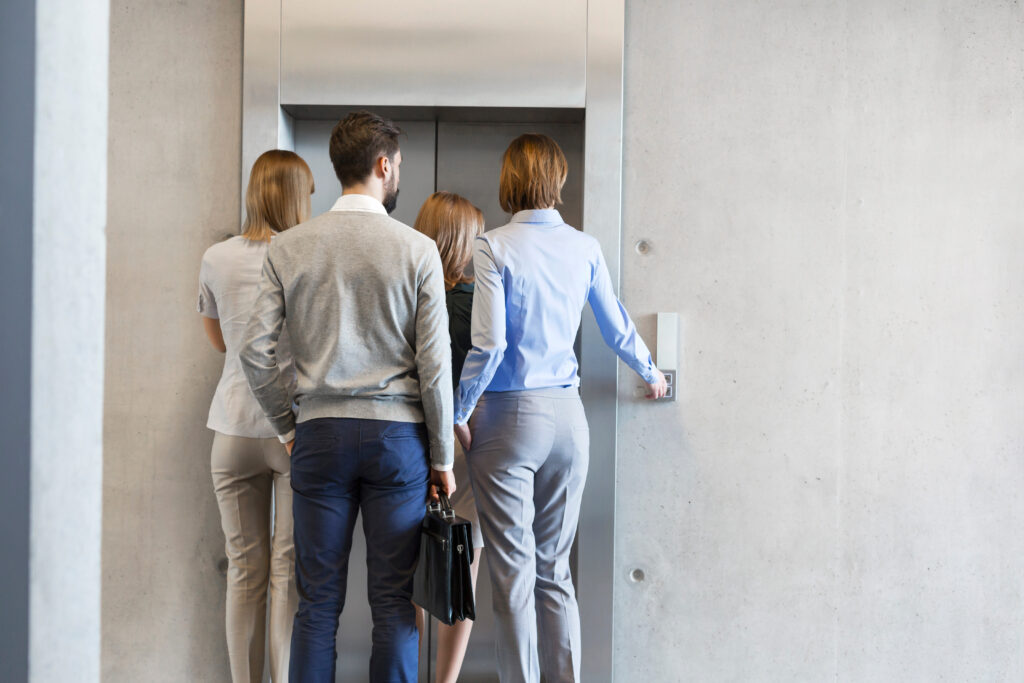 Elevator banks
Elevator banks have multiple elevator cars to move more people at the same time. Elevator banks, which are considered call-button elevators, are often seen in multi-floor buildings where the building is divided into two or more groups of contiguous floors. Each group of floors is served by a set of different elevator cars.
Though elevator banks increase convenience for users, they pose a significant physical security risk. Since multiple people travel via elevator at the same time, it is more difficult to monitor and prevent unauthorized parties from accessing restricted areas.
Buildings that operate with elevator banks may need to implement a full-scale physical security strategy that emphasizes floor-to-floor access permissions or role-based access permissions.
In an office building, the workers of the 20th floor may be given access to a set of elevator cars that goes only to their floor and a couple of other floors with common facilities like a break room or employee lounge.
In a large-scale enterprise, access can be given based on the role of an employee or the department in which they work. For instance, an accounting executive, who works on the 5th floor, may be given access to a set of elevators that goes only to the 5th floor and other floors with common facilities such as the cafeteria and sports arena. Their entry may be restricted to floors that contain the IT department, data center or marketing department. On the other hand, a senior executive may be given unfettered access to all elevator banks without any restrictions.
Cloud-based access control enables security administrators to set elevator access credential limits for all users with a simple click of a button.
Smart elevators
Smart elevators, commonly referred to as elevator destination dispatch, are becoming increasingly popular in high-rise buildings. These elevators replace the traditional call button elevator systems with digital touch screens located in the elevator lobby. Riders input their destination on a digital touchscreen so that destination dispatch (DDT) groups all visitors going to the same floor together and brings in an elevator cab that is logistically fastest. This system ensures reduced wait times and shorter travel times. Though smart elevators are expensive, they provide a higher level of security with the help of DDT technology.
Smart elevators can be integrated with a cloud-based access control system with simple API tokens. The cloud-based access control system allows system administrators to set up user restrictions, manage access permissions and implement mobile credentialing from a sleek dashboard.
Elevator Access Control System Components
There are four major components in many elevator access control systems: a door access control card reader, keypads, an elevator card reader and software.
Door access control card readers
A door access control card reader is a device that reads the access credentials presented by users. When a user swipes or taps a key card, the door access control reader sends the data to the access control panel to verify the identity of the user. The access control system opens the elevator door immediately after the user verification is successful.
A cloud-based access control system enables security administrators to assign access keys in any form, from physical key fobs to mobile keys to let users open elevator doors by swiping their cards or mobile phones.
Keypads
The keypad is a digital panel where users need to type in a passcode or a PIN to open elevator doors or use elevator floor buttons. The major benefit of keypads is that the system administrators don't need to issue physical key fobs or swipe cards to users. However, the major drawback of keypads is they are not contactless. Keypads require users to physically touch the panel to enter a passcode or PIN. Considering the health risks after the COVID-19 pandemic, many enterprises are avoiding the use of keypads as part of their access control systems. This may be used for some elevators, but not all of them.
Elevator card reader
An elevator card reader is the credential reader that reads access credentials presented in the form of RFID cards and swipe cards by the user who seeks access to a particular elevator floor. The credential reader is typically installed in the elevator cab. People can press the elevator push buttons to go to a specific floor only after presenting their credentials or scanning their cards.
Software
The software is a cloud-based access control system that enables security administrators to monitor access workflows of all elevators of a building or multiple buildings from a remote location.
Genea's cloud-based access control platform acts as a global dashboard or a management system for all elevator access control needs of the enterprise. No matter if the enterprise has single elevator access control, elevator banks, or smart elevator, Genea's platform can provide a detailed view of everything happening at elevators in real time.
Simplify Your Elevator Access Control with Genea's Cloud-based System
Elevators play a crucial role in the seamless movement of people within a multistory building. People may suffer from increased wait times and congestion within the elevator lobby if the building does not have suitable elevators. Elevators need to be integrated with access control systems to streamline workflows and reduce wait times for people. The main components of the elevator control system are a door access control card reader, keypads, an elevator card reader and software.
Genea's cutting-edge technology solutions may be the right choice for enterprises looking to integrate their elevators with lift access control systems to improve building security.
Genea Cloud-based Access Control + OTIS Compass integration enables the enterprise to create mobile credentials for building occupants and allows them to use their smartphones to access elevators.
Genea's cloud-based access control can be integrated with Schindler PORT Technology with a simple API token. This integration enables security administrators to sync user access information, manage access groups and link elevator banks with credential readers to provide building occupants and visitors seamless access to the elevator lobby and their desired floors.
Schedule a demo to learn how Genea's cloud-based access control can be integrated with your existing elevators to increase the elevator security system and user convenience.