Cloud-Based Access Control
Genea Access Control Meets Employee Badge in Apple Wallet
Cloud-Based Access Control
Genea Access Control Meets Employee Badge in Apple Wallet
Embrace the power of mobile, cloud-based access control paired with the convenience of Apple Wallet. 
Store your mobile key with your digital credit and debit cards — right on your iPhone or Apple Watch. 
How Apple Wallet and Genea Work Together
Built on the Genea Access Control platform, system administrators can assign and customize access privileges for their end users. After adding permissions, users may incorporate their mobile credential into their Apple ecosystem by dropping the digital badge into Apple Wallet.  
Cloud-based
Access Control
Genea Access Control is a cloud-based solution that provides secure and efficient access control for businesses of all sizes. Our intuitive system is designed to work seamlessly with non-proprietary Mercury and HID hardware, giving you the flexibility to choose the tools that work best for your organization.
The Benefits of Apple
Wallet and Genea
The Benefits of Apple
Wallet and Genea
Unlike physical cards, there is no waiting time for gaining building credentials and access for new employees.  
Convenience

Forget carrying key cards, instead keep your access badge right on your phone. 

 

Speed

Get in and out of the suite faster without having to fumble through your wallet. With "Express Mode," there is no need to wake or unlock your iPhone or Apple Watch. 

Security

Genea takes your security seriously. If your phone ever gets misplaced, simply mark the device as lost, and Genea will automatically suspend your access credentials.
Slim Down Your Wallet
Stop carrying physical key cards. Secure and store your mobile key right inside your Apple Wallet.   
Genea Access Control is a well-implemented product with a solid staff. The product makes physical access very easy to implement across the globe and we have yet to find any cons with the product – the team has been great.
Andy Halvorsen
Director of IT Operations, Sumo Logic Inc.
Genea Access Control is very easy to use; it works with the phone well, hasn't given me any trouble and I have yet to run into anything negative. This is a good company to partner with on these access control needs.
Jordan Rackie
CEO, Keyfactor
The best part of this product is the simplicity of it. I don't have to use a keycard to enter the office, I can easily enter the office through my phone, which is so easy. Any product that makes things simple is a good product and Genea does exactly that.
Zach Riegler
Regional Account Director, Apartment List
---
No Phone? No Problem.
No Phone? No Problem.
Badge into the building and suite using Apple Watch — even without your iPhone. Similar to Apple Pay, users can gain access without a wireless signal.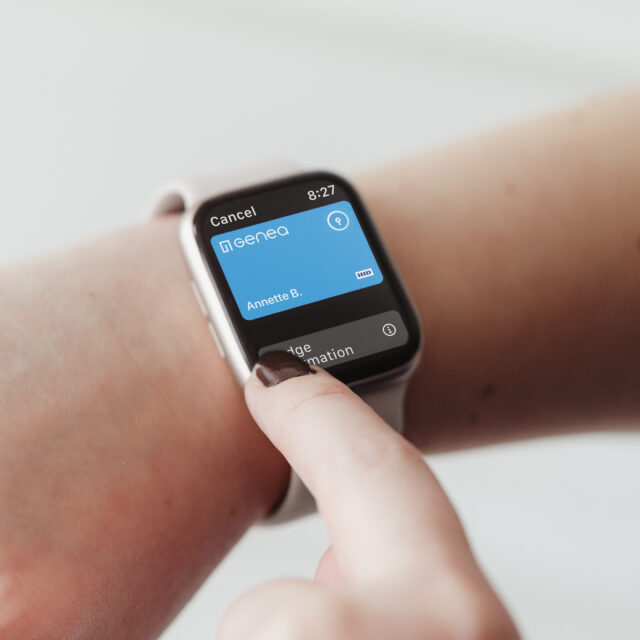 *Apple Wallet is currently only supported by HID.
See why enterprises trust Genea to help secure, scale and automate their operations.