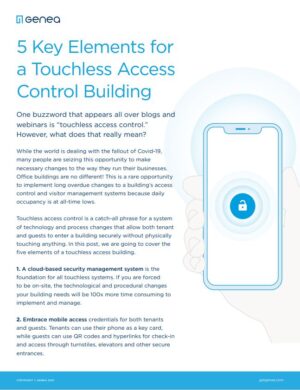 Whitepaper
5 Key Elements for a Touchless Access Control Building
Many property and IT teams are seizing this opportunity to make changes to their facilities. For example, one area experiencing significant change is access control for buildings. With low occupancy, property teams are implementing long-overdue changes to building access control and visitor management systems.
Though unknown to most newbies in the access control world, "touchless access control" is a catch-all phrase. It means "a system of technology that allow both tenants and guests to enter a building securely without physically touching anything." This whitepaper covers five elements of touchless access control for buildings.
Schedule a demo to learn more about how Genea's cloud-based solution can help your team safely prepare for the return to the office.