Choosing the right access control system can be difficult. From non-proprietary systems to cloud-based access control and mobile credentials, system administrators face a daunting number of options. Genea and Verkada are two providers of cloud-based access control. Each centralizes physical security, giving users the ability to integrate their access control with their broader security. In this article, we will compare some of the features Genea and Verkada offer to understand how the two systems stack up.
An Overview of Genea and Verkada
At first glance, Genea Access Control and Verkada share many similar features. Most prominently, each system runs on a cloud-based platform, allowing users to monitor their buildings and provision credentials from anywhere (whether on or off site). Additionally, these cloud-based systems allow for easy scalability — when your business grows, so can your access control. Servers are housed and maintained by a third-party, away from the customers' site, making it easy to add or remove storage.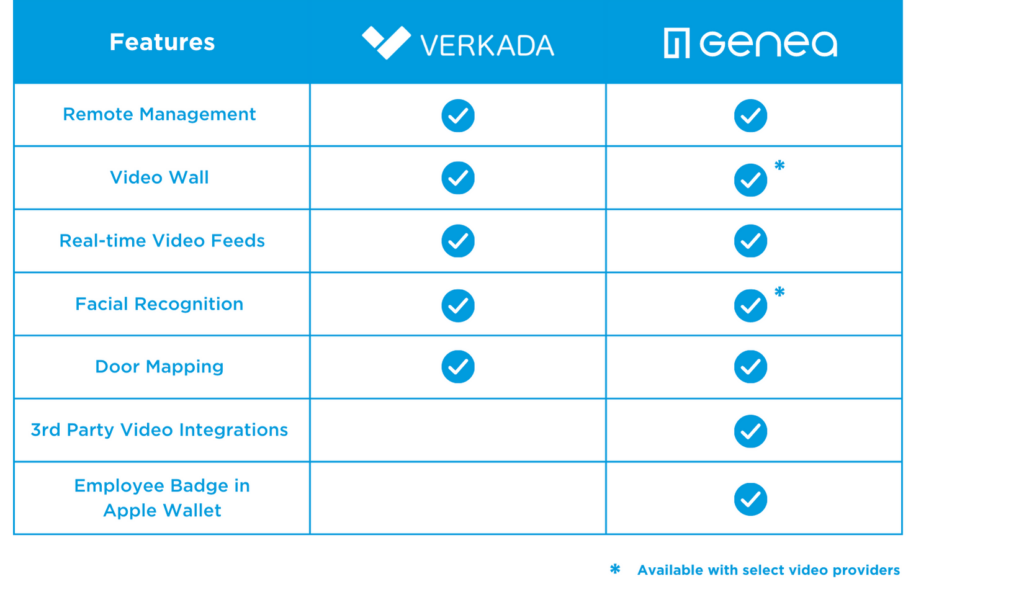 Apart from these features, Verkada and Genea have key differences. Here is an overview of the similarities and differences between the two systems.
System Flexibility
Verkada's access control system is integrated into their broader security platform, which includes video surveillance and environmental monitoring. It provides a unified management interface for multiple security systems. However, Verkada access control and video management is completely proprietary, meaning the software only functions with Verkada hardware.
Genea Access Control focuses specifically on access control and visitor management, offering unparalleled system flexibility by leveraging non-proprietary hardware and an open API that integrates with other software to create a single pane of glass experience.
Hardware Options
Verkada provides its own proprietary hardware devices, including door controllers and card readers, designed to work with only their access control system.
Genea supports Mercury-based system controllers and a variety of hardware. Non-proprietary options give users the flexibility and freedom to choose the hardware that best suits their needs and ensures compatibility with a wide range of providers.
Integration and Compatibility
Verkada's access control system is tightly integrated with their video surveillance solution, allowing for synchronized monitoring and event correlation between the two systems.
Genea's access control system can integrate with third-party software, such as video management systems (Meraki, Milestone, Rhombus and more), identity management systems (e.g., Okta, Azure AD, etc.) and communication tools like Teams and Slack, offering a more comprehensive security ecosystem.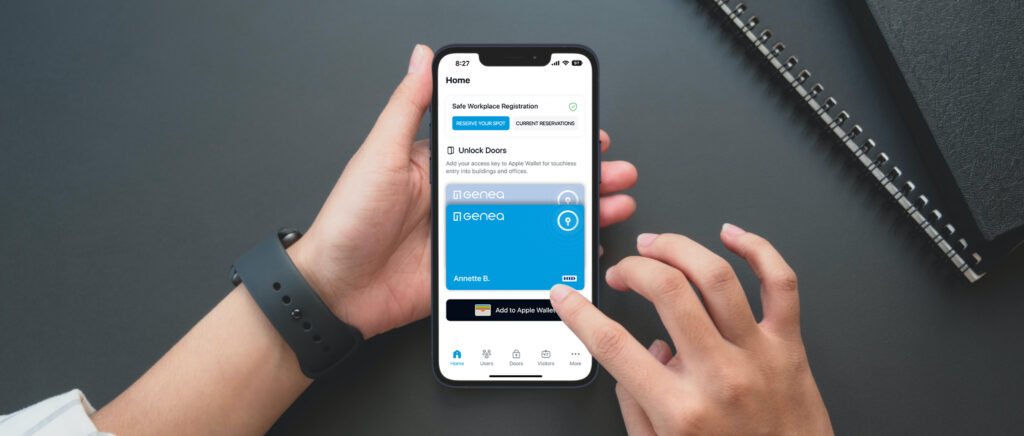 Employee Badge in Apple Wallet
While Verkada offers mobile key cards for both iPhone and Android, it does not have an integration with Apple Wallet.
Genea integrates with employee badge in Apple Wallet, in addition to iOS and Android devices. With this integration, employees can store their access badges alongside other digital items like driver's licenses and credit cards. See how one customer provisioned over 2,200 employees.
Support and Maintenance
Verkada provides customer support and maintenance for their hardware and software solutions as part of their service package (I.e., additional costs).
Genea offers 24/7/365 support, so you get the help you need whenever you need it.
Difference #1: Verkada Video Security
Verkada was founded in 2016 as a video surveillance manufacturer. They have since expanded their product offerings to include access control, intercoms, air quality monitoring and alarms. Verkada's initial focus on video security has paid off. Customers frequently laud Verkada's robust surveillance cameras and interface, which integrates into its cloud-based access control platform.
Video Management Integrations with Genea Access Control
Genea Access Control has been around since 2019, making it the newer option of the two. Since the product's inception, Genea has focused on creating a feature-rich platform with a variety of integrations. With a greater number of integrations, users have more options when it comes to customizing their security.
Genea integrates with various video management providers, including:
Cisco Meraki
Rhombus Systems
Arcules
Milestone Systems and Milestone Kite
Tyco
Eagle Eye Networks
ExacqVision
Salient
Ava Security
By integrating Access Control with video management, users get the best of both worlds – a dedicated surveillance system along with robust access control. Here is a breakdown of video features.
Facial Detection Woes for Verkada
One of the drawbacks of Verkada's video management platform is its "Person Detection" feature. Verkada's feature is banned in Texas, Illinois, Baltimore, Maryland and Portland, Oregon, according to IPVM (subscription required and recommended). Each of these jurisdictions has laws limiting the allowable deployment of facial recognition by private entities.
Difference #2: Non-proprietary vs. Proprietary Access Control
One of the greatest differentiators between Genea and Verkada is hardware. Verkada runs on proprietary hardware, which means customers must depend on Verkada for troubleshooting and system updates. While this all-in-one package may initially sound enticing, it poses several potential issues. Customers are locked into Verkada's hardware and software ecosystem, meaning that users must depend on Verkada for support and feature updates. If Verkada goes out of business or fails to keep the product up to date, then users will experience issues. Not only could this be frustrating, but it could be detrimental to security.
Conversely, Genea Access Control uses non-proprietary Mercury hardware. Mercury is used among several providers; therefore, customers can change software providers at any point. If Genea ever failed to meet the user's expectations, they could simply find an alternative provider without having to install new hardware.
Difference #3: Verkada's Reporting
When it comes to software, Genea outperforms Verkada's in access reporting. Genea offers a robust, customizable reporting engine that can deliver scheduled reports to administrators, greatly reducing the workload of repeat reporting while Verkada has a limited reporting feature set. The ability to customize reports is vital for IT and security teams, property managers and system administrators. With precise reporting, teams can determine foot traffic patterns, when specific end users badge in, equipment lifespan and more. With Genea's Custom Reporting, IT and security teams can generate one-off or recurring access control audits as well as choosing from nine different reports.
Types of Reports in Genea Custom Reporting
Activity
User
User and key
User access group history
Monitor point
Control point
Interface panel
Door
Controller
Reports can be generated by global administrators or location administrators depending on the permissions assigned. Additionally, Genea Custom Reporting includes filters that help you focus on the data most essential to you.
Platform Security
Verkada has come under public scrutiny for its seemingly lax security. In April 2021, the manufacturer was hacked exposing over 150,000 camera feeds from inside hospitals, jails, police stations, schools, gyms, warehouses and factories. Hackers exposed camera footage and live video feeds of various Verkada customers, including Tesla, Cloudflare, Halifax Health Equinox, and many more.
Similarly, in 2022, a Verkada API key was leaked. The manufacturer told IPVM, Cameras inside Verkada's facilities were made publicly available by a leak of a Verkada API key.
Genea makes customer security and compliance its top priority. We are SOC 2 and GDPR compliant and undergo regular penetration testing. See a complete list of all the security and compliance measures Genea takes to keep your data secure.
24/7/365 Customer Service
Experience peace of mind with Genea's 24/7/365 support. We understand the importance of uninterrupted security and are dedicated to providing round-the-clock assistance whenever you need it. Our knowledgeable support team is ready to address any questions, concerns or technical issues you may encounter, ensuring that your access control system remains fully operational at all times.
For more information about Access Control, contact a Genea team member.