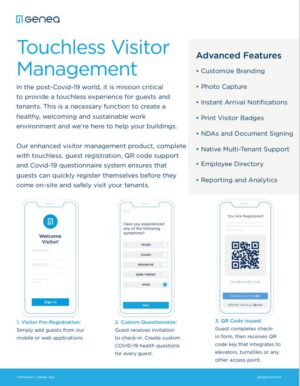 Whitepaper
Touchless Visitor Management
In the post-Covid-19 world, it is mission critical to provide a touchless experience for guests and tenants. This is a necessary function to create a healthy, welcoming and sustainable work environment and Genea is here to help your buildings.
Our enhanced visitor management product ensures your tenants and their guests are registered before arriving on-site, safely.
Schedule a demo to learn more about our cloud-based visitor management product complete with QR code support and customizable Covid-19 questionnaires.